Movies starring Mia Farrow Be Kind Rewind
Despite some solid laughs and a feel-good ending, Michael Gondry's Be Kind Rewind exists far from the mainstream and its appeal will be limited to those who embrace the kind of awkward quirkiness that defines the production. This comedy/fantasy/dra... Ex, The
There's a prescription for making an effective dark comedy: the film must generate equal parts discomfort and laughter. The Ex offers plenty of the former but precious little of the latter. The movie is populated by dislikeable individuals doing ... Omen, The
The Omen is regarded as a horror classic, although I have never been able to figure out why Richard Donner's second-rate exploitation flick has been accorded such a lofty status. Since the 2006 re-make is almost identical to its predecessor (even ... Reckless
Reckless is a Christmas story for all of us who like our holiday fare spiced with bizarre characters and strange plot twists. This black comedy, directed by Norman Rene (Longtime Companion, Prelude to a Kiss) and written by his frequent colla...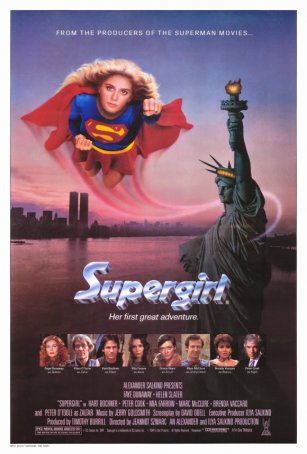 Supergirl
Supergirl holds the distinction of being the worst movie made during the Salkind Era of Superman (which began with 1978's Superman and ended with 1987's Superman IV: The Quest for Peace, although by then the Salkinds had sold the rights to Gol...