Movies starring Missi Pyle Galaxy Quest
Back in the years when Star Trek was still a cult phenomenon (instead of a mainstream cash cow for Paramount Pictures), fan fiction was about the only way Trekkies could experience the latest exploits of their favorite characters. One of the more ...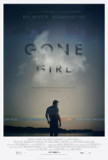 Gone Girl
Early every autumn, there's one excellent studio movie released - a way to kick off the Oscar race and remind adult viewers that it's still possible to find intelligent, compelling movies in theaters. In 2014, that film is Gone Girl, Gillian Flynn... Just My Luck
With a title like Just My Luck, the urge to make puns is almost irresistible. However, in recognition of the fact that the film isn't that bad, I shall refrain from doing so. It's tough for me to determine how 13-year old girls will respond to ...