Movies starring Pat Hingle Batman
The superheroes of DC Comics have been very good to Warner Brothers. In 1978, Superman became a major motion picture event, packing theaters and resulting in a franchise that generated three sequels before collapsing under the weight of bad writin... Batman and Robin
With Batman and Robin, the fourth entry in the recent Batman movie series, the profitable franchise appears poised to take a nosedive. This film, which places yet another actor in the batsuit, has all the necessary hallmarks of a sorry sequel... Batman Forever
It's lighter, brighter, funnier, faster-paced, and a whole lot more colorful than before. There's a new actor underneath the cape, a new girlfriend on his arm, and a new partner by his side. The director is different and the composer has changed....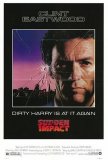 Sudden Impact
Before 1971, Clint Eastwood was known primarily for the long-running TV show Rawhide and his role as The Man With No Name in Sergio Leone's so-called "Spaghetti Westerns." That all changed during this pivotal year in Eastwood's career. In Novembe...