Movies directed by Stephen Sommers Deep Rising
Here's something to chew on: what's the favorite food of big, cheesy-looking special effects monsters like the one lurking in the bowels of a luxury liner in Deep Rising? The obvious answer to this question is cardboard, because that's the depth ...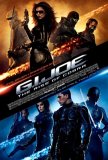 G.I. Joe: The Rise of Cobra
Not that long ago, toys were developed from movies. Now, it's the other way around. This wouldn't be a bad thing if the filmmakers took the time and effort to do something interesting with the premise. Even considering how well-established is th... Mummy Returns, The
The 1999 remake of the horror classic The Mummy surprised Universal Pictures with its box office success. The studio had expected it to be profitable, but not that profitable. However, long before the worldwide gross crept close to $400 million,... Mummy, The
The Mummy is pretty silly stuff. But that's okay when you consider that, beneath all the action/adventure and horror trappings, it's actually a comedy. Think of a big-budget, high profile effort in the vein of Sam Raimi's Army of Darkness wit... Van Helsing
In the 1930s, monster movies were the staples of Universal Pictures' line-up, a cash cow as the industry metamorphosed from silent films to talkies. Although the monsters came in all sizes and flavors, none could match the appeal of the "Big Three...