Movies with screenplay written by Sam Raimi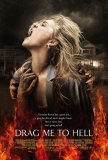 Drag Me to Hell
Oh no, not another PG-13 horror film! "But wait," you say. "It's by Sam Raimi." Perhaps, then, it shouldn't be routinely dismissed as just another tale of demons and ghosts that has been emasculated with the goal of appealing to pimple-faced teen...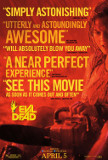 Evil Dead
It's tempting to look at the 2013 reincarnation of Evil Dead as yet another pointless remake of an '80s horror film. Haven't there been enough of these? One glance at the credit list reveals that both director Sam Raimi and star Bruce Campbell (o... Evil Dead II, The
What do you get when you cross George Romero with The Three Stooges by way of the director of A Simple Plan and The Gift? Something offbeat, to be sure. Something grotesque, without a doubt. Something... groovy. Evil Dead II can be seen as ... Evil Dead, The
Long before Scream came along to simultaneously parody the horror genre while participating in it, there was Sam Raimi's Evil Dead trilogy (the third entry into the series, Army of Darkness, was released in 1993). Equal parts suspense, camp, comed... Hudsucker Proxy, The
"Out of hope, out of rope, out of time." - William Cobbs in the opening narration of The Hudsucker Proxy Tim Robbins has a knack for finding his way into superior satires. After taking the lead role in Robert Altman's The Player and starring... Spider-Man 3
The Spider-Man series, which debuted in 2002 and continued in 2004 and 2007, represents the first superhero cycle to complete a trilogy with the same primary cast and production team it had at the beginning. If nothing else, that assures viewers o...