Croods, The: A New Age (United States, 2020)
November 25, 2020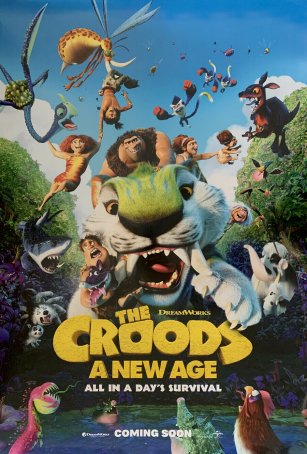 Animated films come in three flavors: childish cartoons that are designed primarily to appeal to the under-10 crowd, middle-of-the-road efforts that at least make an attempt to entertain parents while never threatening established envelopes, and productions that aspire to compete on an equal footing with the best live-action films. The Croods: A New Age, a sequel to the surprisingly successful 2013 film, The Croods, fits squarely with many equally unambitious titles in the middle category. Kids will enjoy it and parents will be sufficiently diverted that they won't be tempted to take a nap. It's disposable entertainment but the receptacle in question doesn't have to be a garbage disposal.
At some point, Dreamworks (and its parent company, Comcast/Universal) decided that it wanted The Croods to graduate from a one-off film into a franchise. Cue the Netflix TV program, an ugly, cut-rate prequel-spinoff that ran for four seasons and did untold damage to the brand's image. A New Age is intended to continue the story begun in the first movie and re-position The Croods as a top-of-the-line animated series worthy of challenging anything that Disney/Pixar releases.
One of the problems with A New Age is that it often appears to be about a bunch of characters in search of a narrative. After recapping events of the first movie (for anyone who either hasn't seen it or has forgotten it in the seven years separating installments), A New Age turns into a Stone Age teen rom-com before switching things up with a King Kong­-inspired second half. Tonally, the film is weird. Younger kids may become bored at times (at least until the action starts) but adults won't have much trouble since there are quite a few "oldster" jokes (including using an old Partridge Family song as a tongue-in-cheek "romantic" touchstone).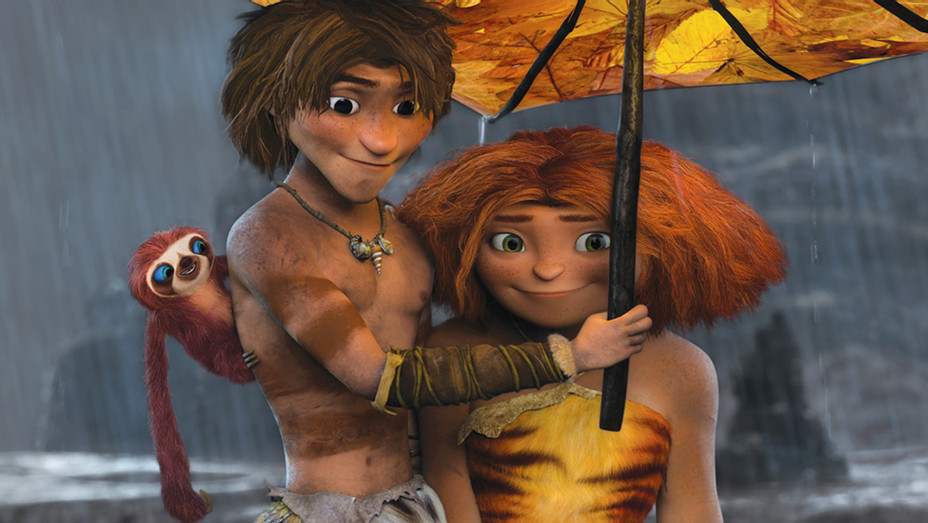 When the movie opens, the Crood family – dad Grug (Nicolas Cage), mom Ugga (Catherine Keener), grandmother Gran (Cloris Leachman), son Thunk (Clark Duke), and daughter Eep (Emma Stone) – have "adopted" outsider Guy (Ryan Reynolds) into their clan, primarily because he and Eep have fallen in love. Led by Guy, the Croods go in search of a New Tomorrow, which they eventually find hidden behind a giant wall. Living inside the fruit-laden paradise with its penthouse treehouse and abundant food are the "more evolved" Bettermans – Phil (Peter Dinklage), Hope (Leslie Mann), and teen daughter Dawn (Kelly Marie Tran). Recognizing Guy, whom they knew as a child, the Bettermans welcome the Croods. But the culture clash between the two families creates friction, and that friction boils over when the Bettermans conspire to pair Guy with Dawn (severing his relationship with Eep) and Grug violates Phil's single rule and eats a banana.
The animation is clean, crisp, colorful, and (unfortunately) a little generic. It's top-of-the-line computer generated stuff and, although it all looks good and is heads-and-shoulders above TV show imagery, there's little evidence of artistry. Likewise, although the voice cast is comprised of big names like Oscar-winners Nicolas Cage and Emma Stone and A-listers Ryan Reynolds and Peter Dinklage, the star power doesn't translate into anything more substantive than subtle recognition. That's not always in the best interests of an animated film. Associating Guy with Deadpool isn't necessary beneficial to the character.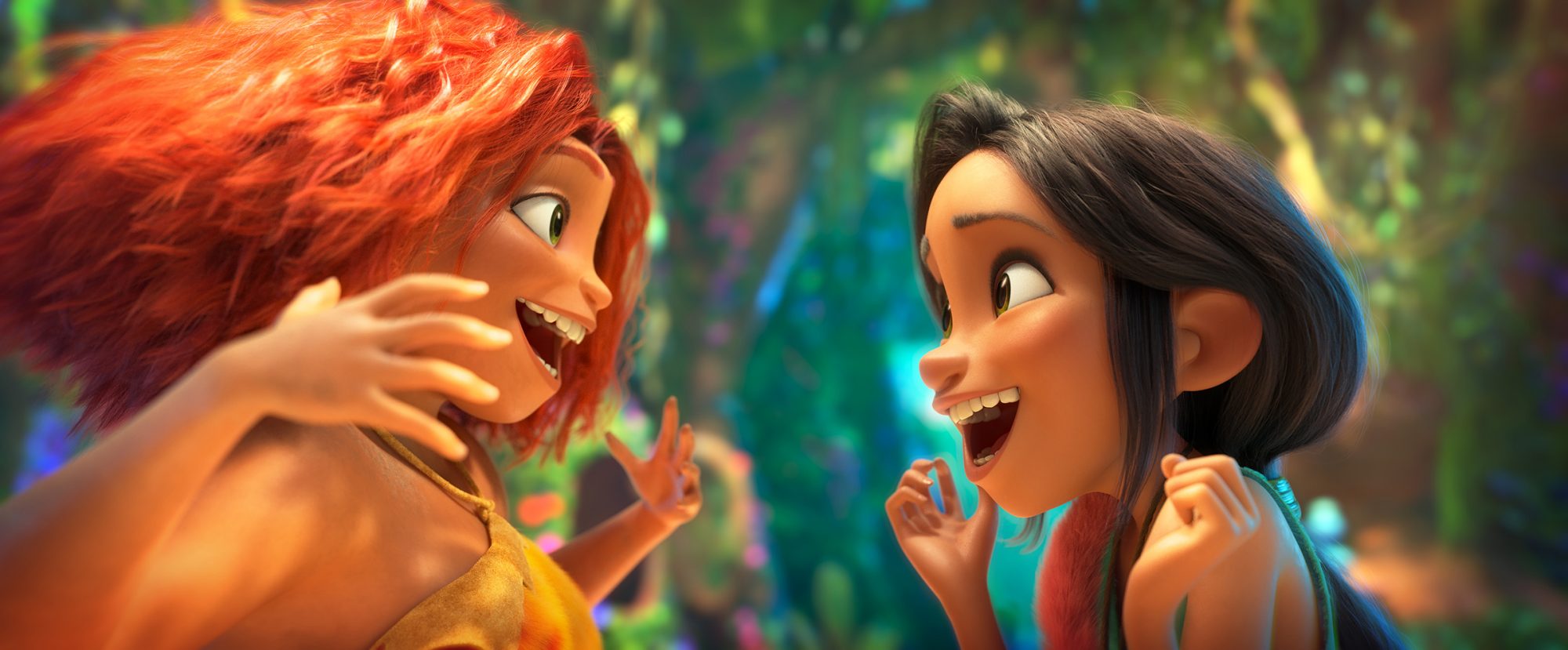 As one might expect from an animated adventure with strong family appeal, The Croods: The New Age has a warm, fuzzy ending. The film's comedy is stronger than its action efforts. The latter features a lot of mindless running around and bloodless fighting. When the movie is going for laughs, however, it hits more often than it misses, although some of the gags (like the ones with window-addiction or the use of punches as a language) aren't retired quickly enough.
For what it is, The New Age offers a breezy 90 minutes of lightweight entertainment that has a few too many holes to be considered as more than an appetizer or post-dinner snack. For a way to spend some at-home family time (and, after the success of Trolls World Tour, there was never any question that Universal was going to make this film available to a VOD audience), it has many of the right elements but this isn't going to go down in the annals of history as an animated milestone that was marginalized by the pandemic.
---
Croods, The: A New Age (United States, 2020)
---

Three...better movies of this genre
worse movies of this genre
Three...better movies of Nicolas Cage
worse movies of Nicolas Cage
Three...better movies of Emma Stone
worse movies of Emma Stone
Three...better movies of Ryan Reynolds
worse movies of Ryan Reynolds