Rampart (United States, 2011)
December 01, 2011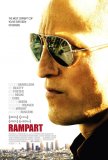 It is fair to argue that, at least in the case of Rampart, Woody Harrelson is better than the material in which he appears. A cop story loosely based on real-life events, Rampart is cursed with a meandering script that mines overworked tunnels and offers a weak ending that provides neither a satisfactory resolution nor a deservedly ambiguous fade-to-black. That the movie is directed by Oren Moverman, whose debut, The Messenger, was an often-overlooked, pleasant surprise, adds to the vague sense of disappointment. As does the identity of the first draft screenwriter: James Ellory, the noted crime writer whose novels have inspired numerous movies, including L.A. Confidential.
There's more than a little of Bad Lieutenant in Rampart, and perhaps even a sampling of Training Day. In general, however, the central character, Vietnam vet-turned-L.A. police officer Dave Brown (Woody Harrelson), is less of a bad seed than the anti-heroes of those films. He is respectful of the women in his life - two ex-wives (Anne Heche, Cynthia Nixon), a lawyer lover (Robin Wright), and two daughters - never resorting to physical violence even when he is verbally assaulted. He is not, however, beyond stealing from criminals, engaging in vigilante justice, and indiscriminately shooting at "the bad guys." He's a racist and, when he is captured on videotape beating a suspect, he charges that he was set up.
Rampart is set against the backdrop of the late-1990s Rampart scandal, in which a large number of cops in the LAPD Rampart Division were accused of misconduct. Brown's infractions, coming as they do in the midst of a charged climate, make him a lightning rod for public criticism. Internal Affairs, represented by no-nonsense Kyle Timkins (Ice Cube), wants him kicked off the force and thrown into jail. His ex-wives want no part of him. Although many of the cops cheer him and offer high-fives, he is not the most popular guy in uniform. His dirty ex-cop mentor (Ned Beatty) changes from advocate to adversary when the winds switch direction.
Much of what Rampart offers is familiar from other dirty cop movies. Little of the drama is sufficiently new or interesting to elevate the movie. The action scenes are perfunctory, but that's excusable since Rampart is not intended to be either a high-octane thriller or an action-oriented cops-and-robbers excursion. It's a downbeat character study and, for the most part, it executes that aspect adequately. When it comes to shining the light into all the dark corners of Dave's life, the screenplay is solid. Without the participation of Woody Harrelson, however, this might have gone directly to DVD.
All these years later, it's strange to remember that Harrelson got his start playing the naïve bartender Woody Boyd on Cheers. From such humble beginnings, Harrelson has become a more-than-capable actor whose range and willingness to take chances have enabled him to hone his craft on an ongoing basis. Harrelson is among the few performers who grows better with age; he has been on an upward course since his first major dramatic role in The People vs. Larry Flynt. He has not hunkered down in a comfortable niche, as his recent resume proves. 20 years ago, it would have been unthinkable to believe that Harrelson could play a role as complex and volcanic as Dave Brown, but his commitment to acting has allowed this transformation. It's tough to say whether this is the actor's career-best performance, but it's up there, and he invests his portrayal with sufficient intensity and emotion that we quickly lose sight of Woody and see only Dave - angry, unbalanced Dave, whose fuse has almost burned out.
The cast is populated by a number of "name" actors, including Sigourney Weaver, Anne Heche, Robin Wright, Ned Beatty, and (in a cameo) Steve Buscemi. All provide competent support; at no time can acting be construed as being among Rampart's problems. In the end, however, the overfamiliar storyline, which rarely deviates from a formulaic trajectory, limits the production's effectiveness. Harrelson almost makes it all worthwhile, but there are limitations to what he can do. The outstanding question is whether his performance in a title of limited visibility will earn him enough notice to unseat a lesser deserving but higher profile Oscar nominee (as happened with Jeff Bridges and Crazy Heart). Had the writing in Rampart been on par with the acting, there might be no need to ponder that possibility; it would have been a foregone conclusion.
---
Rampart (United States, 2011)
---
Three...better movies of this genre
worse movies of this genre
Three...better movies of Woody Harrelson
worse movies of Woody Harrelson
Three...better movies of Robin Wright
worse movies of Robin Wright
(There are no more worst movies of Robin Wright)
Three...better movies of Anne Heche
worse movies of Anne Heche