Selma (United States, 2014)
January 08, 2015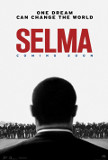 Selma offers a warts-and-all snapshot of half-century old American history: events beginning around the first of January 1965 in Selma, Alabama and culminating with the triumphant third march to Montgomery and President Johnson's introduction of the Voting Rights Act to a joint session of Congress. The period in between represented one of the darkest periods of the 1960s Civil Rights movement. Not only did it feature the murder of Malcolm X on February 21 (an event only alluded to in the film) but it was highlighted by widespread acts of brutality and a tactical struggle between Johnson (Tom Wilkinson) and Martin Luther King Jr. (David Oyelowo) about the best way to push forward voting equality.
Most movies about the Civil Rights Movement tone down depictions of violence to obtain the MPAA's golden "PG-13" rating. There are good reasons for doing this but I have always felt that neutering the brutality does a disservice to viewers who may not be familiar with history. Selma is an exception; it doesn't pull punches. This is a harsh movie but, perhaps as a tacit acknowledgment on the part of the MPAA of its historical importance, it was accorded a PG-13.
Martin Luther King Jr. is the film's hero and, with only occasional detours, Selma presents the events of early 1965 from his perspective. In this role, David Oyelowo is mesmerizing. He exudes charisma and his mimicry of King's oratories resonate with passion (this is especially noteworthy since the filmmakers were forced to use "alternative versions" of speeches because another studio holds the copyrights for the actual ones). Selma offers a biographical fragment of King's life that echoes Steven Spielberg's Lincoln: revealing character by focusing on a specific incident. The most compelling moments in Selma are the intimate ones. Especially revealing are King's bouts of self-doubt that reveal the underlying humanity of this supposed instrument of God. We also see how King and his wife, Coretta (Carmen Ejogo), live under the constant threat of death. An assassin's bullet would claim King's life in April 1968 but there was a sense even in 1965 that such an eventuality was inevitable.
The film has been criticized for its historically inaccurate depiction of President Johnson; however, director Ava DuVernay has no greater responsibility to being rigorously factual than any other non-documentary filmmaker. She massages history to suit her thesis without distorting it beyond recognition. The problem with Johnson, to the extent there is a problem, is that he is miscast. As good an actor as Tom Wilkinson is, this isn't the right role for him. Not only does he fail to resemble Johnson in voice, manner, or appearance, but we never get to the point where we lose sight of the actor. This isn't an issue with Oyelowo, who is fully and transparently King from the moment the camera focuses on him.
Stylistically, there are some minor missteps. Occasional captions, purportedly "reports" by the FBI, are unnecessarily distracting and smack of gimmickry. On the other hand, DuVernay's recreation of the Jim Crow South is strong and she mutes colors to suggest the way in which the black population is being choked. The verisimilitude with which she reconstructs the three marches allows her to incorporate actual news footage late in the film without its inclusion seeming jarring or inappropriate.
What Selma does so well is to bring to life the events of 1965, especially "Bloody Sunday" (the first march). It's one thing to read about these moments in a history book but another altogether to see them on the screen. The movie is riveting. It reminds us not only of how far we have come as a society but how far we have yet to go. Selma recollects one of the greatest recent growth pains this country has endured. In the process, it tells a story whose arc passes through unimaginable tragedy to reach a point of triumph. The presentation (and subsequent passage) of the Voting Rights Act wasn't an end but it was a step forward - one of many steps begun by Lincoln's Emancipation Proclamation and still going on today. Like other accomplished motion pictures, Selma encourages reflection and discourse. How many movies can make that claim?
---
Selma (United States, 2014)
---
Three...better movies of this genre
worse movies of this genre
Three...better movies of David Oyelowo
worse movies of David Oyelowo
Three...better movies of Tom Wilkinson
worse movies of Tom Wilkinson
Three...better movies of Carmen Ejogo
worse movies of Carmen Ejogo