Movies starring Breckin Meyer Herbie: Fully Loaded
Herbie: the car that won't die. I suppose there are worse ways to spend a summer evening than in the company of this cast and the R2D2-like automobile, but hasn't the day of Herbie come and gone? The Love Bug first made its appearance in the 1968...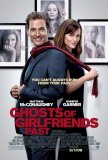 Ghosts of Girlfriends Past
What happens when Hollywood marries Charles Dickens, that wacky 19th century romantic comedy scribe, to Matthew McConaughey, that wacky naked bongo drum player? To begin with, great expectations should be curbed. The result is not as good as it sho... Road Trip
In the 1980s, Porky's spawned an era of teen sex comedies that took most of the decade to die out. Last year, American Pie re-invented the genre, albeit with more wit, moxie, and forthrightness than anything in the '80s ever showed. Todd Phillips... Garfield
If there was a single thought prominent in my mind as I watched Garfield: The Movie, it was "Why?" Not so much "why" I was there (although my decision to get up early on a Saturday morning to attend this screening might be a cause for concern), bu...