Movies starring Johnny Simmons Evan Almighty
Finally, a 2007 sequel that's demonstrably better than its predecessor! Alas, considering how bad Bruce Almighty was, that's damning with faint praise. The central problem with Evan Almighty is that the filmmakers pack too much plot into what sho...
Greatest, The
What a waste of a talented cast! There are times when it can be depressing to see so much acting potential wasted on a script unable to elicit the best from its stars, and this is one such occasion. Although The Greatest can boast a few excellent ...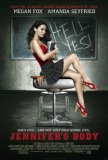 Jennifer's Body
Jennifer's Body mixes, matches, and crosses three popular genres: horror, comedy, and teen angst. Unfortunately, it fails at all of them - and "fails" might be too kind a term. This movie is a spectacular disaster, the kind of thing a cat might b...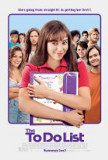 To Do List, The
The To Do List grafts the raunchiness of today's R-rated comedic fare onto the structure of an '80s sex romp. The film feels a little like what might happen if the producers of films like Bridesmaids found a lost John Hughes script and adapted it f...