Movies starring Maggie Gyllenhaal Stranger than Fiction
Stranger than Fiction does a lot of things exceedingly well and almost none poorly. It takes a great premise and runs with it, neither wasting opportunities nor going off on tangents. It features strong work from both the main and supporting actors... Trust the Man
Trust the Man is the latest feature from Bart Freundlich, who came to many people's attention in 1997 with The Myth of Fingerprints. Since then, Freundlich's resume has been spotty but, based on the $8 million payout by Fox Searchlight for this mov...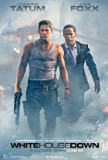 White House Down
White House Down is what it's advertised to be: a Roland Emmerich Film. Those familiar with the director's work won't be surprised by anything in the movie. It follows the Emmerich template: a spectacle-tinged, compelling setup; a dumb, disappointi... World Trade Center
Turning back the calendar to the morning of September 11, 2001 is a risky proposition for any director, and not to be undertaken lightly. Paul Greengrass succeeded brilliantly with his United 93 and now Oliver Stone, never one to back away from a ...