Movies starring Ricky Jay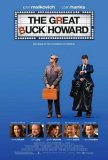 Great Buck Howard, The
The Great Buck Howard offers John Malkovich an opportunity to do a little mugging for the camera as he plays a character who is, by nature, larger than life. Buck Howard, a fictional representation of The Amazing Kreskin, is part star and part lou... Heist, The
Since the death of Alfred Hitchcock, many filmmakers have vied to succeed the Master of Suspense. With apologies to rip-off artist Brian De Palma, my vote goes to David Mamet, whose films House of Games and The Spanish Prisoner can stand alongside ... Redbelt
Most directors, upon entering a genre with which they lack familiarity, adhere strictly to "the book." David Mamet, however, throws "the book" out the window. The resulting movie, a mixed martial arts concoction called Redbelt, is different than ... Spanish Prisoner, The
What would it be like if celebrated playwright and screenwriter David Mamet collaborated with Franz Kafka? While we'll never know for sure, The Spanish Prisoner gives a good indication. This film, the fifth to be authored and directed by Mamet (w...