Movies starring Rob Schneider 50 First Dates
50 First Dates offers viewers a kinder, gentler Adam Sandler. Gone (at least for one movie) is the narcissistic adolescent caught in a perpetual state of arrested development. In his place is a likeable goofball whose rough edges are worn off by ...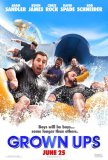 Grown Ups
Sometimes even a high profile movie can surprise you. Take Grown Ups, for example. Based on the advance promotional material, this didn't look like the kind of production likely to end Adam Sandler's streak of unremarkable star vehicles (Funny Pe... Hot Chick, The
One of the most depressing movie-going experiences I can think of is to sit through about 90 minutes of a so-called "comedy" and not laugh once. Unfortunately, that is becoming an all-too-common occurrence. Rob Schneider's The Hot Chick is the mo... Judge Dredd
Some two decades ago, Sylvester Stallone actually did a little acting in a movie called Rocky. Since then, he's pretty much strutted his way through film after film, grunting convincingly and occasionally uttering a line or two of dialogue. He pr...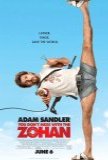 You Don't Mess with the Zohan
Watching You Don't Mess with the Zohan is a little like watching an episode of the TV show of which Adam Sandler is an alum: Saturday Night Live. Zohan feels like an extended collection of skits tied together by a flimsy umbrella story. It feature...