Movies directed by Nora Ephron Bewitched
Warning: vicious personal-sounding attacks to follow. I want revenge on those who stole 100 minutes of my life. The motion picture version of Bewitched is a travesty of monumental proportions that belongs in the "What the hell were they thinkin...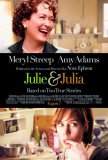 Julie & Julia
When I was three years old and my playmates were happily watching Sesame Street and cartoons, I would sit in front of the television and gaze at the force of nature that was Julia Child (I also liked Graham Kerr, The Galloping Gourmet). Her larger... Michael
Undeterred by the universally hostile reaction to her previous holiday picture, Mixed Nuts, director Nora Ephron (Sleepless in Seattle) is back at it again this year with Michael, the second angel-comes-to-Earth feature of the month. While this ma... Mixed Nuts
Gag. There must be something about the combination of Steve Martin and Nora Ephron that doesn't work. Anyone remember My Blue Heaven? (For that matter, does anyone want to remember My Blue Heaven?) Regardless of how dreadfully unfunny that Ma... Sleepless in Seattle
8-year old Jonah Baldwin (Ross Malinger) misses his mother, who died from cancer eighteen months ago. More than that, however, he recognizes that his father, Sam (Tom Hanks), is desperately lonely. So, on Christmas Eve, Jonah calls a radio talk-s... You've Got Mail
Tom Hanks can act. You need look no further than this year's Saving Private Ryan for proof of that. Meg Ryan can also act. For supporting evidence, check out Prelude to a Kiss and Courage Under Fire. However, in Nora Ephron's latest romantic co...