Movies with music written by John Frizzell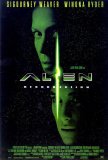 Alien Resurrection
If nothing else, Alien Resurrection emphasizes something that became apparent five years ago with Alien 3 -- the series hasn't only run out of steam, it's getting thin on new ideas. No one seems willing to take any chances with the franchise, ... Dante's Peak
Where are the flying cows when you really need them? Dante's Peak is obviously predicated on the dubious idea that bigger is better. 1996's Twister brought in hundreds of millions at the box office by showcasing relatively small (if something s... Primeval
What a croc! Unsolicited advice to filmmakers: When making a monster movie, do not attempt to sell said film as a picture about a serial killer. Second piece of unsolicited advice to filmmakers: When making a monster movie, keep the focus on the... Reaping, The
Upon reflection, it's not difficult to understand why The Reaping languished for so long on the shelves of Warner Brothers before being dumped into distribution. (Those with long memories may recall trailers for this movie popping up about a year ...