Last Night in Soho (United Kingdom, 2021)
October 29, 2021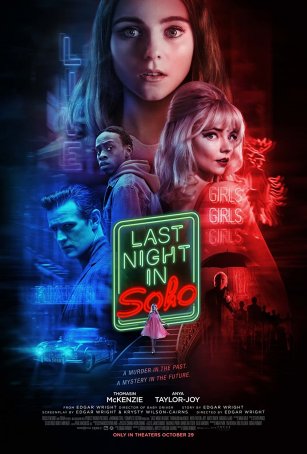 Last Night in Soho has a great hook and starts out looking like it's going to do something compelling with that hook. Unfortunately, as is too often the case with promising horror films, this one devolves into a disappointing mess toward the end.
The movie opens in modern-day England, where would-be fashion student Ellie (Thomasin McKenzie) learns that she has been accepted into a trendy London school for designers. Ellie has a sweet disposition and an unwavering determination to make it on her own. Her loving grandmother (Rita Tushingham) is concerned about Ellie since the young woman has psychic tendencies that make her vulnerable to bad thoughts and unseen demons. (She sometimes sees the ghost of her mother, who died by suicide.)
Once in London, Ellie determines she's not a good match for her bitchy, Type-A roommate, Jocasta (Synnove Karlsen). She moves out of the dorm and rents a studio apartment from an elderly woman, Ms. Collins (Diana Rigg), who lays down a series of rules that wallflower Ellie believes she'll have no trouble following. That's when the visions start. As Ellie lies down at night, she is transported to the mid-1960s (a nearby movie house marquee touts Thunderball) – an era she idolizes – and gets to look at the scintillating world through the eyes of aspiring singer Sandie (Anya Taylor-Joy). At first, Sandie seems to have London at her feet and Ellie becomes addicted to going to sleep at night so she can re-connect with the hip, sexy, self-confidant other woman. It all starts to crumble, however, when Sandie's lover/manager Jack (Matt Smith) shows his cruel, lecherous side and leads his latest "find" down an ugly alley. During her day hours, Ellie becomes obsessed with finding out what happened to Sandie 55 years earlier, but the trail has gone cold and no one believes her visions. But there's one mysterious old man (Terence Stamp) with a knowing look and a few familiar mannerisms who may know the answers – if she can convince him to talk before the ghouls in her nightmares drive her insane (or worse).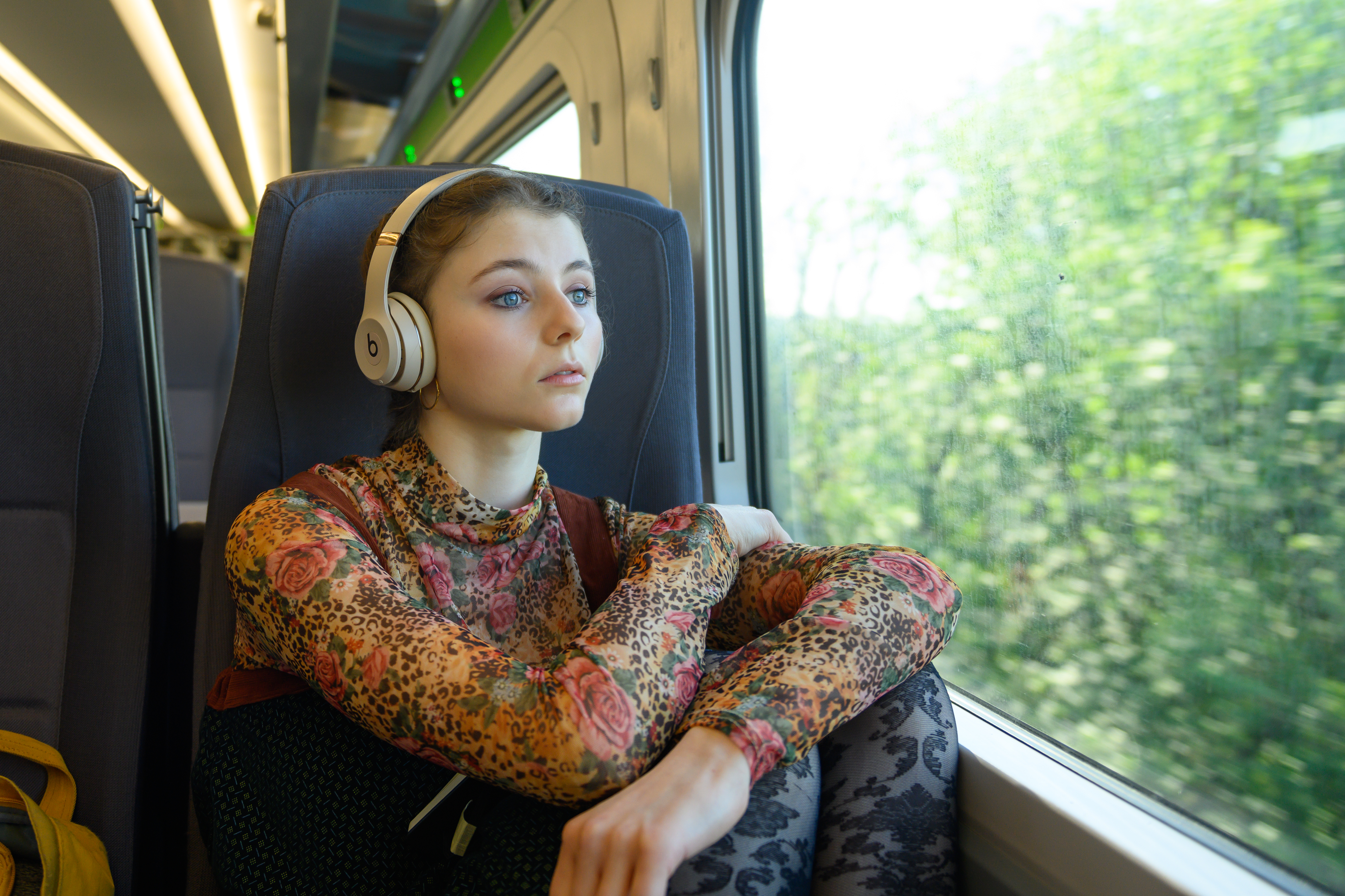 The first 25 minutes of Last Night in Soho play like a low-key "Country Girl Goes to London" coming-of-age story, complete with snobbish rivals and a potential boyfriend (Michael Ajao). The supernatural elements are kept to a minimum and we're afforded an opportunity to get to know Ellie, who is played by Thomasin McKenzie (Leave No Trace) with the perfect blend of toughness, sincerity, and naivete. The film's big moment, when Ellie tumbles into her dream/vision and arrives in early 1966, is presented with sufficient spectacle to justify a theatrical viewing. The stereo soundtrack explodes to full surround sound and the muted colors pop. We're through the looking glass with Alice.
Those first few nights in 1966 are perfect as the camera catches glimpses of Ellie in mirrors. We're not sure of the connection between the two women who are separated by a half-century – whether Ellie is merely gazing through the eyes of Sandie as a passive observer or whether she is becoming Sandie in some tangible sense. There's so much to absorb and wonder about and, at least for a while, Wright manages the complexity of the situation without a hitch, while giving us a great soundtrack of '60s songs (highlighted by Petula Clark's "Downtown"). But the movie goes off the tracks when ex-Doctor Who Matt Smith starts snarling and sneering.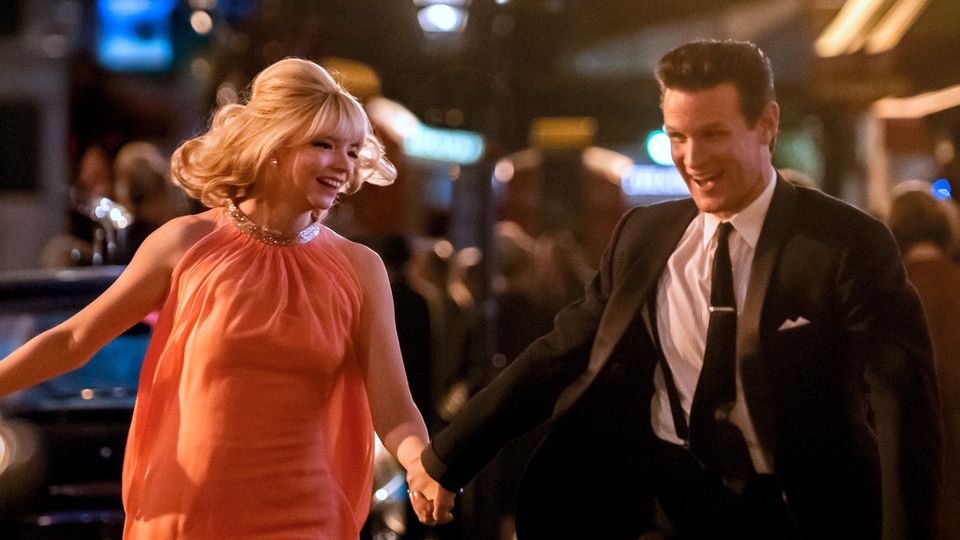 The film's final 45 minutes does what it has to do, which is to "explain" everything, although once the explanation is out of the bag, it underwhelms. Wright also leans a little too deeply into the horror elements (ghouls/ghosts), which may not be surprising considering that his first international big break was the horror/comedy Shaun of the Dead. The final confrontation is less-than-satisfying on a number of levels and the ease with which things come together in the denouement strains credulity.
Fans of Thomasin McKenzie will have no complaints – Last Night in Soho shows the actress at her best. Anya Taylor-Joy isn't quite as well-served by the screenplay, although she's given a couple of scenes where she's allowed to cut loose. Matt Smith is given little to work with: a one-dimensional cad whose sheep's clothing comes off quickly. Wright also makes room for four veteran British actors: Terence Stamp, Rita Tushingham, and ex-Bond girls Margaret Nolan and Diana Rigg. For Nolan (Goldfinger) and Rigg (On Her Majesty's Secret Service), this represents a last hurrah. Both died during the COVID-protracted period between filming and release and each receives a deserved dedication.
It's almost worth seeing Last Night in Soho for the glorious heights of the first hour as Wright manipulates the visuals and acts like a master magician in developing his illusion. It's when the illusion evaporates that the movie disappoints and, because it starts out so strongly, that makes the lackluster final act all the more discouraging.
---
Last Night in Soho (United Kingdom, 2021)
---

Three...better movies of this genre
worse movies of this genre
Three...better movies of Thomasin McKenzie
(There are no more better movies of Thomasin McKenzie)
worse movies of Thomasin McKenzie
(There are no more worst movies of Thomasin McKenzie)
Three...better movies of Anya Taylor-Joy
worse movies of Anya Taylor-Joy
Three...better movies of Matt Smith
worse movies of Matt Smith
(There are no more worst movies of Matt Smith)