Truth, The (France/Japan, 2019)
July 02, 2020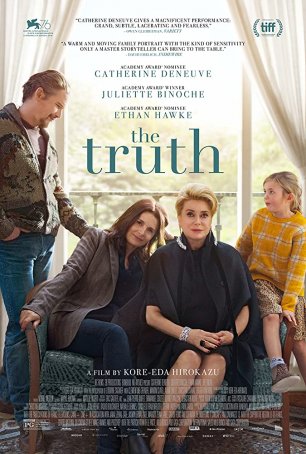 In 2014, Japanese director Hirokazu Kore-eda's Like Father, Like Son missed the #1 spot on my annual Top 10 list by a whisker (it was one of three films that year to which I awarded four stars). A few years later, his Shoplifters topped the list. Since his 1995 debut with Maborosi, Kore-eda has evolved to become Japan's premiere (living) maker of live-action films. Refusing to be pigeonholed into a single category, he has freely crossed genre and stylistic boundaries, often infusing his dramas with comedy and going so far afield as to craft a film about a sex doll come to life (2009's Air Doll). Prior to The Truth, however, all of his productions have been set in Japan, featuring Japanese characters.

When many celebrated directors choose to expand beyond their countries of origin, they accept the lure of Hollywood and film in English. Kore-eda, however, has opted to avoid the bigger budgets and studio interference that can come along with an American production, instead selecting France for his first non-Japanese movie. The cast features the legendary French star Catherine Deneuve, current A-list actress Juliette Binoche, and one of the most eclectic American actors of his generation, Richard Linklater's favorite, Ethan Hawke. (Playing a typical American, he speaks only English, excepting a few halting French phrases.)

The Truth doesn't soar to the same level of greatness as Like Father, Like Son, Shoplifters, Maborosi, or Still Walking), but it is by no means a failure. It gives Deneuve some of the best dialogue she's had in a long time and focuses on the sometimes acerbic, sometimes affectionate relationship between a mother and daughter. This is no Terms of Endearment tearjerker, however. Kore-eda keeps the tone mostly light without straying too far into melodrama. He pulls back whenever the movie starts getting too emotional, even using a movie-within-the-movie as a means to convey some of his points. Unlike Like Father, Like Son and Shoplifters, there's no overt social commentary. This is strictly a character piece – an opportunity for three great actors (although Hawke's role is supporting and he remains on the periphery) to inhabit their alter-egos and explore.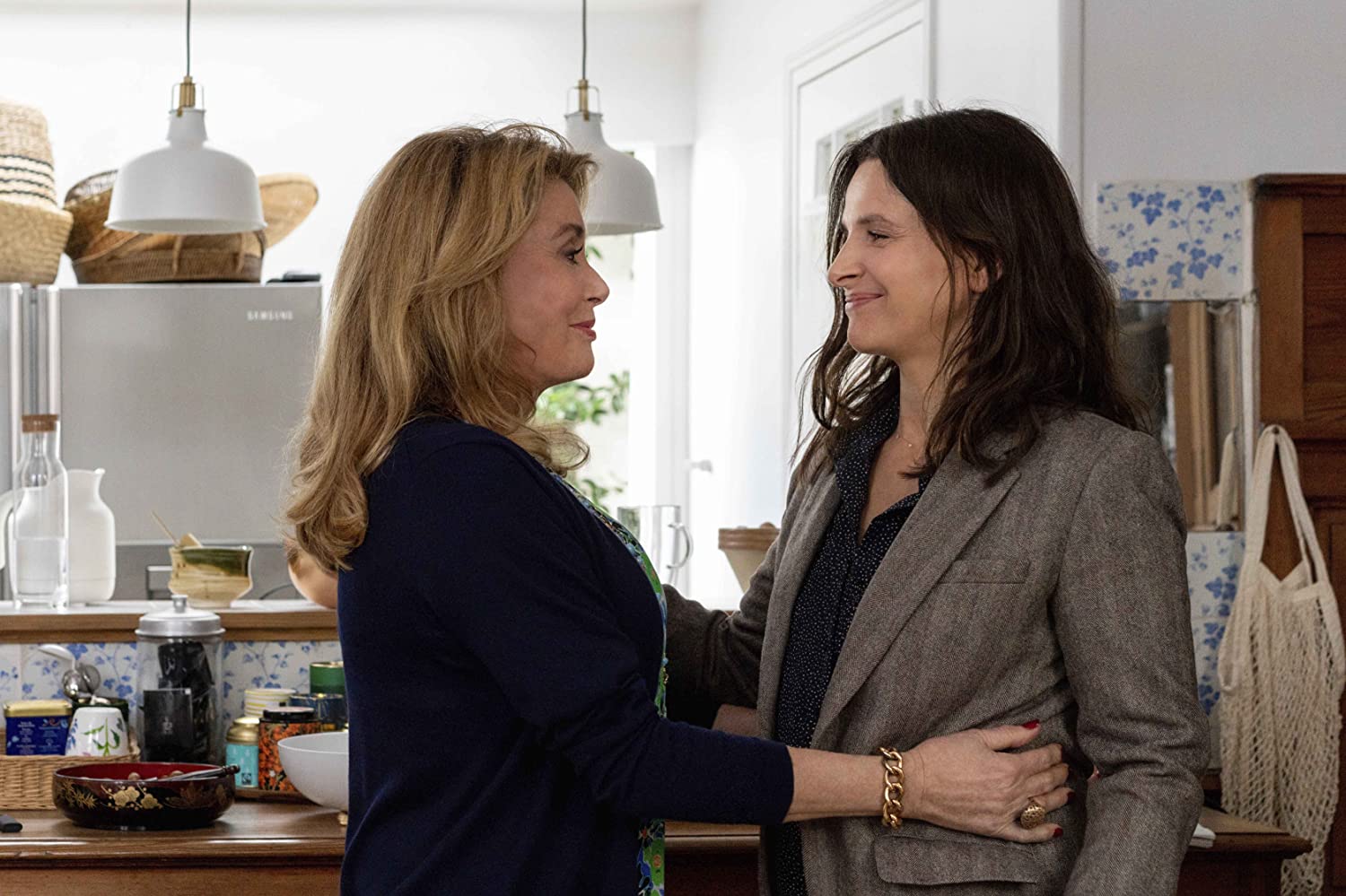 Juliette Binoche and Ethan Hawke play Lumir and Hank, a married couple based in L.A. who, along with their young daughter Charlotte (the adorable Clementine Grenier), are visiting Lumir's mother, Fabienne Dangeville (Catherine Deneuve). In a case of art mimicking life, Fabienne is a legendary actress who continues to work into her 70s. Her latest project, a science fiction story about a woman who goes into space to slow the process and therefore outlives her daughter, allows Fabienne to perform opposite the actress Manon Lenoir (Manon Clavel), who bears a stunning resemblance to Fabienne's one-time rival, Sarah Mondavan, from an earlier era. Meanwhile, she is also in the process of doing pre-release publicity for her memoir, called "The Truth." Ironically, Lumir's biggest problem with the book is that, based on her own recollections, it's all a big lie.

Lumir and Fabienne don't have the most collegial of relationships. We gather from their interaction that Lumir was mainly raised by Sarah – a closeness that Fabienne resented (at one point, she laments, "[Sarah] stole my child"). Although there's an evident affection between them, they are often guarded with one another and there can be a sense of impatience and exasperation on both their parts. Memories, and the unreliability of remembering, is as important to the characters as the current status of their relationship. On more than one occasion, someone remarks that "you can't trust memory." This becomes a key theme. The Truth, in addition to being the film's title, is a commodity that becomes ever more nebulous with the passage of time. Echoes of Rashomon, one of the classic productions of Kore-eda's celebrated countryman, Akira Kurosawa, can be heard throughout this film.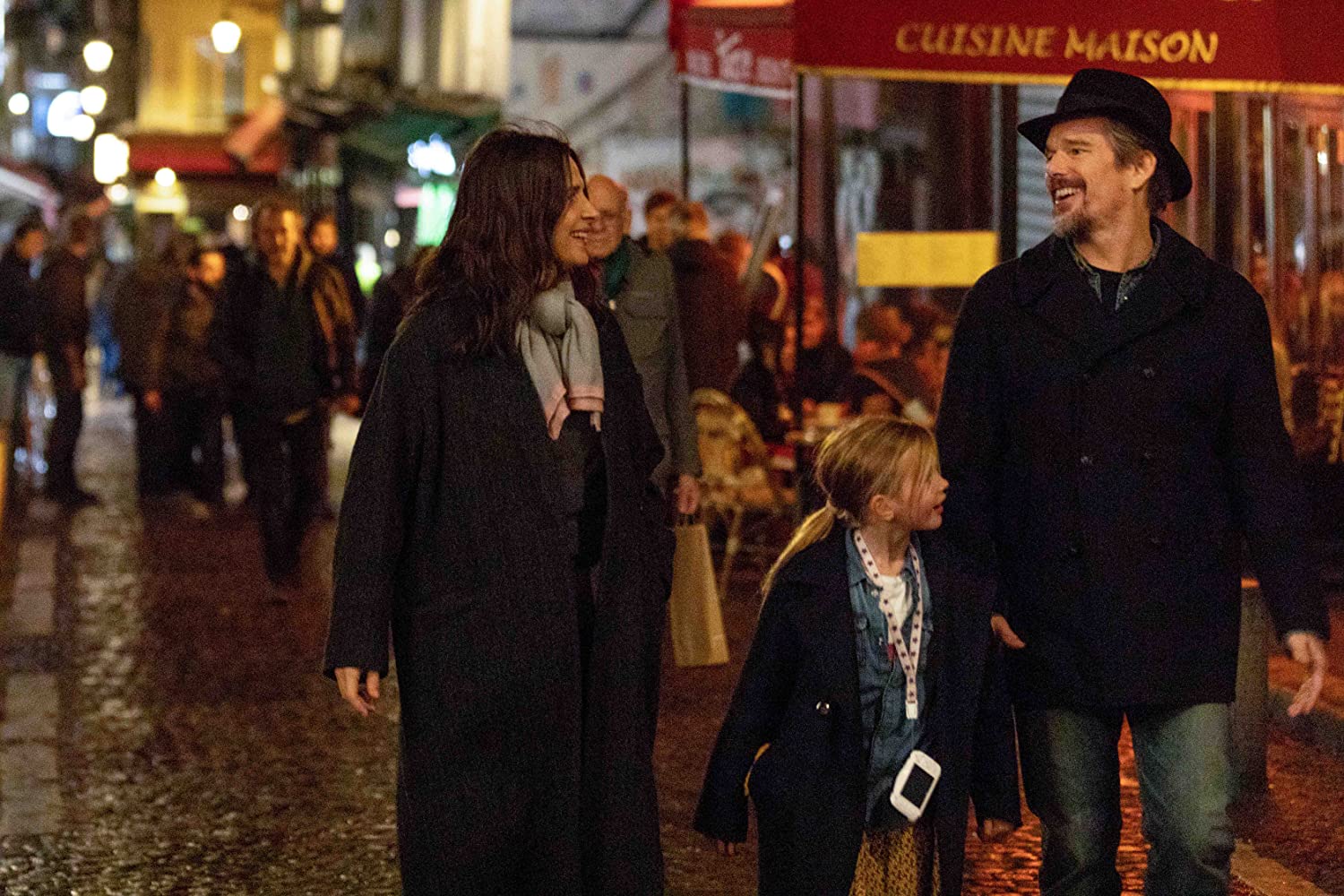 Narratively, The Truth suffers from an anticlimactic resolution. This is in part because Kore-eda carefully avoids the kind of emotional manipulation that might result in a more sentimental (and possibly more cathartic) resolution. There's also some minor frustration that Sarah (who has been dead for some time and is therefore never seen), despite her criticality to the Lumir/Fabienne relationship, is only vaguely sketched. Her importance is referenced through hints and innuendo but there's never a clear discussion about how she fits into the chronology of Lumir's youth.

Although The Truth often feels French (for lack of a better term), there are times when Kore-eda's visual signatures appear. One such moment is a serene shot of a tree with the colored autumnal leaves falling off under the prompting of a gentle breeze. Another occurs shortly thereafter when Fabienne takes her dog for a walk. Unimpeded by an overseer (something that might have occurred had he come to America), Kore-eda is able to retain his voice while branching out to make a different sort of movie from those he has recently crafted. The Truth is layered and offers a treat for those who savor acting on the highest level, but it is a step down from his best films and may hold its strongest appeal for those who label themselves cineastes and art house movie-lovers.
---
Truth, The (France/Japan, 2019)
Run Time: 1:46
U.S. Release Date: 2020-07-03
MPAA Rating:
"PG"
Genre:
Drama/Comedy
Subtitles: In French and English with subtitles
Theatrical Aspect Ratio: 1.85:1
---
Three...better movies of this genre
worse movies of this genre
Three...better movies of Catherine Deneuve
worse movies of Catherine Deneuve
(There are no more worst movies of Catherine Deneuve)
Three...better movies of Juliette Binoche
worse movies of Juliette Binoche
Three...better movies of Ethan Hawke
worse movies of Ethan Hawke