Movies starring John Wood American Werewolf in London, An
Although the 1980s were not kind to most traditional monsters - vampires, mummies, gargoyles, and the like - the first two years of the decade offered three prominent werewolf movies. The first to reach the screen was Joe Dante's The Howling, whic... Ideal Husband, An
An Ideal Husband is a delightful parfait - an irresistible concoction of brilliant dialogue, sumptuous set design, top-notch acting, and a plot littered with Machiavellian twists. Possessing a light tone tinged with an acerbic accent, An Ideal Hus... Richard III
Richard III - it's Shakespeare that has nothing to do with Kenneth Branagh. Actually, at first glance, this film doesn't appear to have anything to do with the Bard's play, either. Opening in a 1930's England war room with a tank crashing through... Sabrina
These days, Hollywood seems to be almost entirely bankrupt of new ideas. For bursts of inspiration or innovation, the movie-goer increasingly has to seek out independent motion pictures. What we are getting more and more from the big studios is a... Shadowlands
"What was [Joy] to me? She was my daughter and my mother, my pupil and my teacher, my subject and my sovereign; and always, holding all these in solution, my trusty comrade, friend, shipmate, fellow-soldier. My mistress; but at the same time all ...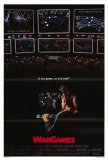 WarGames
If nothing else, WarGames is a great "time capsule" movie. Although many of the themes and concepts forming the foundation of John Badham's 1983 thriller are hopelessly out-of-date, this is one of the best films from its era to illustrate not only ...