Movies starring Rupert Everett Cemetery Man
If Meet the Feebles wasn't your cup of tea, Night of the Living Dead grossed you out, and you didn't see the humor in The Evil Dead, then Cemetery Man is definitely not for you. On the other hand, if you don't mind horrific, grotesque comedy that ...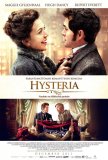 Hysteria
Hysteria's "hook" is that it chronicles the development of one of the 20th century's most popular home appliances: the vibrator. However, although the details surrounding the deplorable state of women's medicine during the Victorian era are intrigu... Ideal Husband, An
An Ideal Husband is a delightful parfait - an irresistible concoction of brilliant dialogue, sumptuous set design, top-notch acting, and a plot littered with Machiavellian twists. Possessing a light tone tinged with an acerbic accent, An Ideal Hus... Importance of Being Earnest, The
The chief pleasure to be found in any version of Oscar Wilde's play, The Importance of Being Earnest, is the dialogue, and Oliver Parker's re-interpretation is no different. All of the great lines are here: "The very essence of romance is uncertai... Madness of King George, The
If the score of Immortal Beloved is remarkable, that of The Madness of King George is no less so. With the clear strains of Handel's "Water Music" and "Zadok the Priest" in the background, The Madness of King George ascends to a level that it migh... My Best Friend's Wedding
My Best Friend's Wedding is the estrogen alternative to the vast quantity of testosterone being pumped out by the other major June releases: Con Air, Speed 2, Batman and Robin, and Face/Off. As the summer's centerpiece romantic comedy, My Best ... Shakespeare in Love
In 1998, there have been two films about space debris on a collision course with Earth, two animated insect movies, and now two tales about life during the reign of Queen Elizabeth. Granted, there's a yawning chasm in tone between the dark, treach... Shrek 2
A certain amount of credit must be given to the filmmaking team behind Shrek 2 for overcoming a seemingly insurmountable obstacle and producing an entertaining motion picture. That obstacle is the ending of the original Shrek, which neatly wrapped...