Movies starring Michael Lerner Godzilla
Godzilla is the ultimate culmination of the "who cares about plot" summer movie. A loose remake of the 1954 "classic" Japanese monster movie, Godzilla, King of the Monsters (which is itself pretty thin in the story department), Roland Emmerich...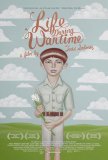 Life During Wartime
In 1998, Todd Solondz's Happiness became one of the most talked-about and controversial indie films of the year - a black comedy that ventured into David Lynch territory to expose the rot underlying the placid exterior of suburbia. At the time, Hap... My Favorite Martian
The most inventive moment in My Favorite Martian comes during the opening sequence. A robot Mars probe is shown slowly picking its way across the barren surface of the Red Planet. When its power supply finally gives out and it grinds to a halt, t... Newsies
In 1992, Walt Disney Pictures, riding a wave of euphoria generated by its recent animated successes, The Little Mermaid and Beauty and the Beast, tried to do something that was met by critics with skepticism: revive the live-action musical. Filmm... Safe Men
On the scale of dumb summer comedies, Safe Men ranks a lot closer to Mafia! than to There's Something about Mary. Oh, the film has its share of amusing moments, and a few of the roles have been filled through inspired casting, but there's still to...