Movies starring Tom Arnold Final Season, The
No one could accuse David M. Evans of a lack of ambition. In The Final Season, he takes a standard sports cliché - the underdog team facing a big game - and grafts onto it countless mediocre subplots. There are so many, in fact, that it would tak... Happy Endings
Happy Endings is one of those ensemble films where several stories are told in parallel with occasional intersection points to keep them from being unconnected. Sometimes, as in the case of Crash, the approach works. Sometimes, as in the case of Ha...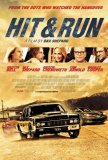 Hit & Run
For an action comedy, it's generally advisable that the movie be (a) exciting, (b) funny, or (c) both of the above. In the case of Hit & Run, the unfortunate choice is (d) none of the above. A slow, meandering misfire of a movie, this co-directoria... Pride
Pride is one of those generic inspirational sports movies that has been cobbled together from spare parts left to rust on Hollywood's shelf of clichés and stereotypes. Take a little '70s racism, add the guidance of a strong coach, throw in minor ... True Lies
A few months ago, when speculation was rampant about who would be the next actor to nab the role of James Bond, Arnold Schwarzenegger's name was bandied about as one of the "long shots." Well, Pierce got the job, not Arnold, but for those who wond...