Search for Robert Ben Garant Herbie: Fully Loaded
Herbie: the car that won't die. I suppose there are worse ways to spend a summer evening than in the company of this cast and the R2D2-like automobile, but hasn't the day of Herbie come and gone? The Love Bug first made its appearance in the 1968... Night at the Museum
With a cast featuring Ben Stiller, Owen Wilson, Robin Williams, and Ricky Gervais, one has a right to expect something amusing from Night at the Museum. Oddly, not only is the movie unfunny, but it rarely tries for laughs. The only jokes in the pr...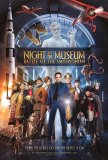 Night at the Museum: Battle of the Smithsonian
The best thing that can be said about the second Night at the Museum (which bears the unnecessarily long full title of Night at the Museum: Battle of the Smithsonian) is that it's harmless. And pointless. And dumb. This is a perfect example of a ... Pacifier, The
Pacifiers are for infants. The same is true of The Pacifier. In fact, "infantile" may be the best single word to describe this Kindergarten Cop wannabe. Vin Diesel is better than the material, but, no matter how hard he tries, he can't rise abov... Reno 911!: Miami
Reno 911!: Miami represents an argument against taking 22-minute TV comedy shows and expanding them to 80-minute feature films. Something that entertains over a short period when watched from the vantage point of a couch or a recliner does not nece...