Movies with screenplay written by Quentin Tarantino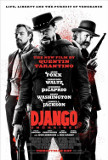 Django Unchained
One of the great strengths of Quentin Tarantino's films is the way his love of cinema permeates every frame. From subtle, throw-away lines and in-jokes to more obvious nods (such as the "old fashioned" Columbia logo at the beginning or the '70s-sty... Four Rooms
Four Rooms, a four-segment anthology directed by independent film darlings Allison Anders, Alexandre Rockwell, Robert Rodriguez, and Quentin Tarantino, has to be one of 1995's major disappointments. Perhaps it's the format itself -- twenty minutes... From Dusk Till Dawn
It's great fun, but certainly not great art. From Dusk Till Dawn, a special effects blood-and-gore extravaganza from director Robert Rodriguez, follows in the footsteps of such cult classics as Sam Raimi's Evil Dead series, thumbing its nose at con... Grindhouse
The term "grindhouse" refers to a specific type of '60s and '70s exploitation film: the sex-and-gore soaked fare that played in run-down urban cinemas and drive-in theaters. With their consistently poor production values and often horrifically bad ...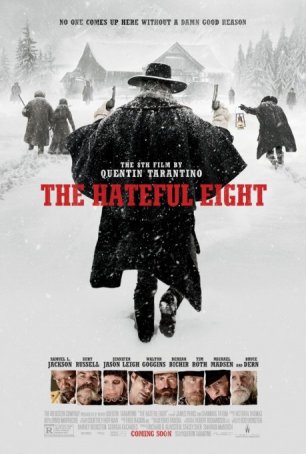 Hateful Eight, The
The credits for The Hateful Eight proudly proclaim this to be the "Eighth Film" from writer/director Quentin Tarantino. Since catching the movie world unawares with his powerhouse debut, Reservoir Dogs, some 23 years ago, he has worked on...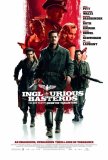 Inglourious Basterds
With Inglourious Basterds, Quentin Tarantino has made his best movie since Pulp Fiction. He has also made what could arguably be considered the most audacious World War II movie of all-time. If you think there are rules for this sort of motion pi... Jackie Brown
It has been three long years since Quentin Tarantino stunned the cinema world by claiming the Cannes Film Festival's Palme D'Or, a $100 million-plus box office gross, and an Oscar nomination – all for his sophomore outing, Pulp Fiction. Sinc... Kill Bill (Volume 1)
Quentin Tarantino fans have been waiting six long years for the release of the director's follow-up to Jackie Brown. So what do they get for their patience? An incomplete movie, artlessly cleft in the middle. Cinema interruptus. A film whose ed... Kill Bill (Volume 2)
Two things are readily apparent about Kill Bill Volume 2. First, unlike its predecessor, this is a complete movie. It stands on its own. It is possible to see and enjoy Volume 2 in a way that was not true of Volume 1. Viewed in retrospect, the ... Natural Born Killers
Despite his reputation as one of America's foremost "serious" filmmakers, Oliver Stone's name under the "director" caption does not guarantee a good movie. I learned that lesson while enduring the seemingly-endless tedium of The Doors, and was rem...