Party, The (United Kingdom, 2017)
February 22, 2018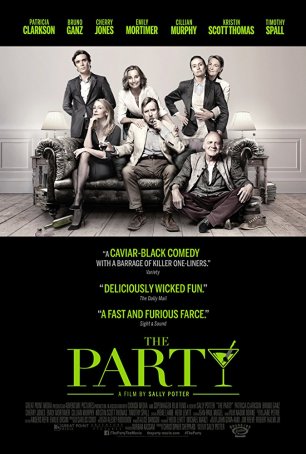 Sally Potter's quirky The Party owes a lot to a generation's worth of French "gathering" films in which a bunch of characters come together for dinner (or something similar) and all hell breaks loose. Commonalities among these films include an abundance of dialogue, simmering tensions among characters, a tone that varies between darkly comedic and tragic, and a surprising revelation or two along the way. All of these elements are present in The Party.
With a svelte running time of about 70 minutes, The Party doesn't overstay its welcome. It doesn't feel too short but, unlike many of these films, it doesn't turn into a slog through intellectual diarrhea. Although set in modern day, Potter uses black-and-white to divorce The Party from a strictly contemporary interpretation. Although the lack of color is surprising at first, it quickly becomes second nature.
The plot is sparse. This is about acting, dialogue, and character interaction, not narrative. Events transpire at a dinner party thrown by Janet (Kristin Scott Thomas) and her husband, Bill (Timothy Spall), to celebrate Janet's appointment as minister of health in the opposition's shadow cabinet. Also in attendance are the cynical April (Patricia Clarkson) and her estranged partner, spiritual guru Gottfried (Bruno Ganz); Martha (Cherry Jones) and Jinny (Emily Mortimer), who have just learned that the latter is expecting triplets; and Tom (Cillian Murphy), whose wife, Marianne, has been "delayed." The Party revolves around various truths and secrets that are revealed, including a terminal illness, several affairs, and whether one character is going to commit a crime with a gun.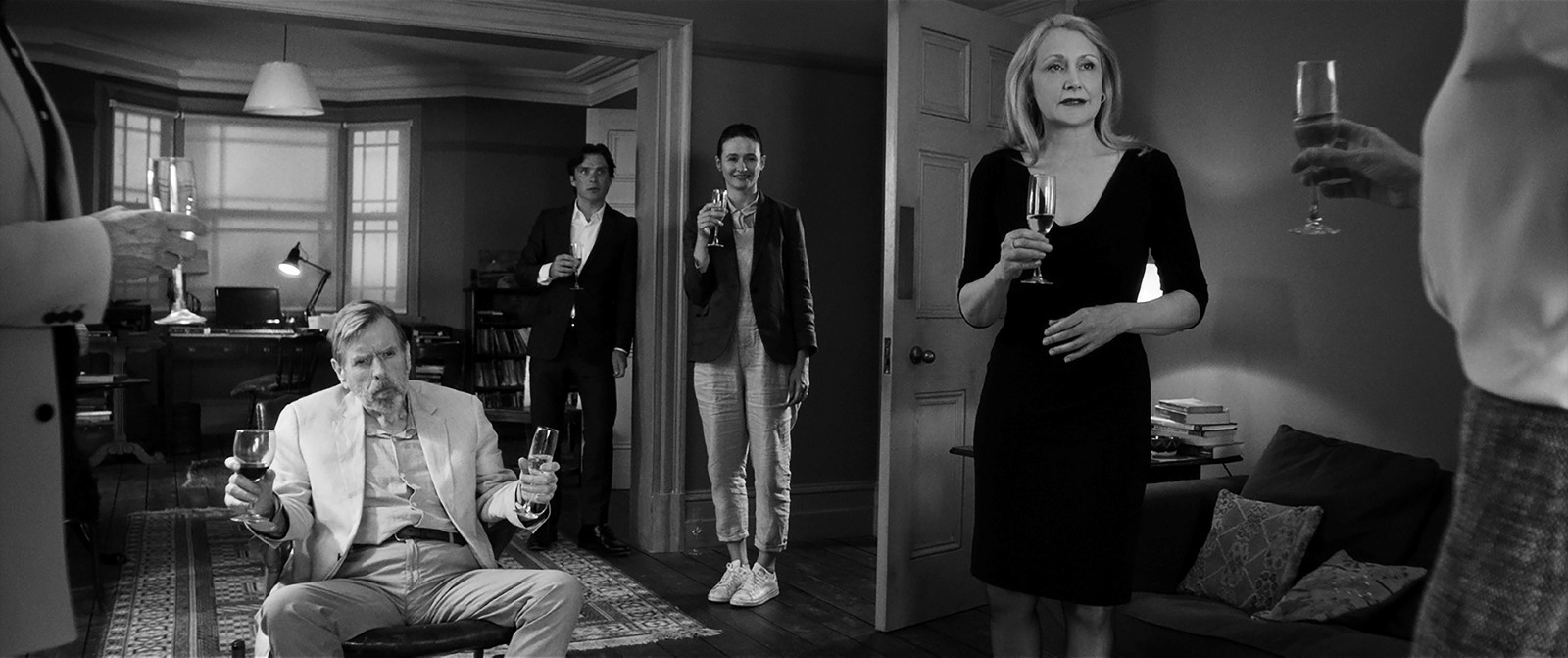 Potter's script is deft, breezing along quickly. The comedy is low-key and of a more intellectual than physical variety. There's an element of mystery surrounding the proceedings; this is enhanced by a momentary flash-forward (with a deranged-looking Kristin Scott Thomas brandishing a firearm). Of course, with a cast of this caliber, Potter makes sure to allow each actor an opportunity to shine. The result is a true ensemble. Of all the storylines, the least impactful one is the friction between Martha and Jinny about their impending parenthood and what it means for their relationship.
Potter has never been an auteur to color inside the lines. She first achieved international recognition for her 1992 film, Orlando, and achieved greater notice for 1997's antiseptic romance, The Tango Lesson. Her productions are perfect art-house fare, where viewers are willing to accept the challenges mandated by some of her choices. The Party is among Potter's most accessible works because of its reasonable length and strong acting. The fly-on-the-wall, real-time approach puts us in the house with these people and makes us interested in what will happen next. The ending, which is an artistically selected cliffhanger, is more likely to bring a smile than a huff of frustration. The Party is worth a look for those who appreciate this sort of production, although it's unlikely to broaden Potter's appeal (not that such a thing would be among her concerns).
---
Party, The (United Kingdom, 2017)
Run Time: 1:11
U.S. Release Date: 2018-02-23
MPAA Rating:
"R" (Profanity)
Genre:
Drama/Comedy
Subtitles: none
Theatrical Aspect Ratio: 2.35:1
---

Three...better movies of this genre
worse movies of this genre
Three...better movies of Kristin Scott Thomas
worse movies of Kristin Scott Thomas
Three...better movies of Timothy Spall
worse movies of Timothy Spall
Three...better movies of Patricia Clarkson
worse movies of Patricia Clarkson