World's End, The (United Kingdom, 2013)
August 23, 2013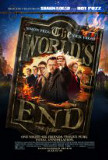 The World's End represents the conclusion to the so-called "Three Flavours Cornetto Trilogy" from the creative team of Edgar Wright, Simon Pegg, and Nick Frost. Finding linkage between this film and its predecessors, Shaun of the Dead and Hot Fuzz, is difficult, although each references a different colo(u)r of Cornetto, but it's a workable marketing device. The most obvious commonality is that each movie parodies and occupies a genre. With Shaun of the Dead, it was zombie films. With Hot Fuzz, it was cop movies. And with The World's End, it's body-snatching alien invasion flicks.
The film's strength is its comedic bent - there are some very funny moments contained herein. However, the narrative eventually loses its way and crumbles (although the epilogue is rather brilliant). The increase in action set-pieces heralds The World's End's least engaging act. Overall, the strengths definitely outweigh the weaknesses and the tone and feel echoes that shared by Shaun of the Dead and Hot Fuzz. There's also more than a passing resemblance to Doctor Who in general and a 1975 story called "The Android Invasion" in particular. Considering that writer/director Edgar Wright and co-writer/star Simon Pegg are both avid Doctor Who fans, one can assume this is not coincidental.
Although the title and the marketing campaign make this look like yet another apocalyptic yarn, it's not - at least not in the main. "The World's End" is the name of a pub and the storyline is about Earth being invaded by stealth with the goal of "improving" the planet rather than destroying it. The trailers and publicity material make this sound like a close cousin to Seth Rogen's This is the End (even the names are easily confused). However, when you sit down to watch The World's End, most of the alleged similarities melt away. The two movies aren't much alike, although both are sci-fi comedies that feature a lot of swearing.
After a lengthy prologue set in the early 1990s, The World's End moves into modern times with Gary King (Simon Pegg) trying to round up "the old gang" for a pub crawl. It's an ambitious undertaking that they attempted (and failed at) in their youth. Their inability to have at least one pint at all 12 locales has eaten at Gary ever since. So he bullies and cajoles his old pals - Andy (Nick Frost), Steven (Paddy Considine), Oliver (Martin Freeman), and Peter (Eddie Marsan) - to join him for a trip down memory lane while conquering The Golden Mile. They are joined along the way by Oliver's sister, Sam (Rosamund Pike), who once had a fling with Gary and who has long been loved from afar by Steven. For a while, their biggest challenge is getting along until they discover that many of the people of Newton Haven have been replaced by robotic replicas.
The World's End has the same kind of fun with sci-fi tropes that the previous two "Cornetto" features enjoyed playing in their individual playgrounds. Simon Pegg and Nick Frost are once again front-and-center and, as in Shaun of the Dead and Hot Fuzz, their chemistry and energy go a long way toward keeping the movie afloat. Frost is great as the straight man and Pegg veers between maniacal overdrive and instances of surprising pathos. His best scene feels like a Buster Keaton homage (or possibly a nod to Star Trek's "The Trouble with Tribbles") as he attempts to down a pint in the middle of a bar brawl.
Moving beyond Pegg and Frost, there are some nice secondary performances. Eddie Marsan gets a chance to play someone who isn't creepy or evil - a nice change-of-pace for the character actor. Martin Freeman, whose visibility is in a steep upward trajectory, has a funny moment or two as a stuck-up realtor. Paddy Considine is rather dour and low-key and, as a result, the least memorable member of the quintet. Rosamund Pike's Sam is underwritten and the actress is underused, but this isn't the kind of film where one expects three-dimensional female characters. David Bradley who, in his 60s and 70s has nabbed a number of plum roles including appearances in Harry Potter and Game of Thrones and playing William Hartnell in an upcoming docu-drama about the beginnings of Doctor Who, plays a crazy old coot sucking on a crazy straw (there's a reason for it). James Bond #5 has an uncredited cameo.
The climax is sloppy because Pegg and Wright write themselves into a corner from which there's no clever or elegant escape. The conversation with Bill Nighy's voice doesn't work. Yes, comedies get a little more slack when it comes to narrative cheats - often because we're laughing so hard we don't really care - but The World's End wants to be more than "just a parody" and, because of that, it's impossible simply to give the ending a pass. At least what happens after the climax is clever and daring and helps to rebuild any goodwill lost in the preceding scenes.
There's a lot of fun to be had in watching The World's End and, surprisingly, more thematic depth than one might expect. The humor, true to its British roots, may baffle some Americans but those who "get" it will laugh quite a bit. Through it all, however, there's an underlying current of melancholy as Gary discovers what Bruce Springsteen sang about in "Glory Days": life passes by in a blink and the "greatness" of youth is quick to fade. There's a lesson to be learned here: You can't go home again, and not just because all your old haunts are now occupied by stiffly smiling doppelgangers.
---
World's End, The (United Kingdom, 2013)
---
Three...better movies of this genre
worse movies of this genre
Three...better movies of Simon Pegg
worse movies of Simon Pegg
Three...better movies of Nick Frost
worse movies of Nick Frost
Three...better movies of Paddy Considine
worse movies of Paddy Considine