Movies starring Gene Hackman Royal Tenenbaums, The
When I first heard the title of this movie, I thought it was a great ploy to release it around Christmas. Then I realized it was "Tenenbaums", not "Tannenbaums"... so much for that idea. Actually, Touchstone has elected a year-end release because... Superman
To date, the 1978 theatrical version of Superman remains the only motion picture based on a comic book to have a lush, epic feel. Developed by Godfather scribe Mario Puzo with reverence for the venerable superhero, Superman pays homage to the lege... Superman II
According to the original plan, Superman II was intended to be released six months after the original Superman (in fact, the end credits for Superman contain the following statement: "Coming Next Summer: Superman II"). The idea had been to film t...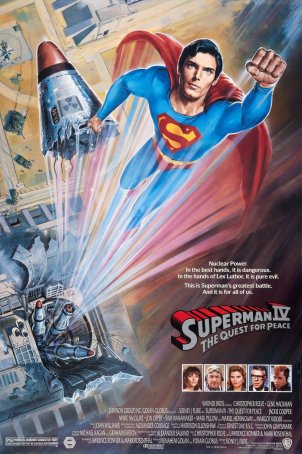 Superman IV: The Quest for Peace
In 1987, Superman returned to the big screen after a four-year absence. The fanfare was more muted than it had been for any of the previous three entries into the franchise, including the critically lambasted and fan-unfriendly Superman III, which... Twilight
Twilight may end up being the most disappointing film of 1998. It certainly holds that distinction to date, but I'm aware that there are ten months left in the year. And let me emphasize that by "disappointing," I mean something that falls drasti... Unforgiven
Clint Eastwood's reputation as a Hollywood icon was founded on two roles: The Man with No Name, who starred in three of Sergio Leone's "Spaghetti Westerns" (A Fistful of Dollars, For a Few Dollars More, The Good The Bad and the Ugly), and "Dirty" H... Welcome to Mooseport
What might have been… Those four words tell the sad story of too many films, and Welcome to Mooseport is one of them. It starts out with a terrific premise, ripe with the potential for the kind of political satire we haven't seen on the big scr...