Movies starring Josh Hutcherson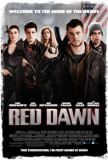 Red Dawn
John Milius' 1984 action/adventure film, Red Dawn, has long faded from the memories of all but a small group of intense devotees. It is perhaps best remembered, to the extent that it's remembered at all, as the answer to a number of trivia question... RV
A sample of questions that floated through this reviewer's mind while watching RV... Is the name "Big Rolling Turd" supposed to apply to the RV or the movie? Where's Chevy Chase when you need him? And, considering all the movies not being shown t... Zathura
Calling Zathura the "space version of Jumanji" wouldn't be far off. Like the 1995 film, this movie is based on a children's book by celebrated author Chris Van Allsburg in which a group of people plays an amazing board game. (Van Allsburg doesn't...