Movies with cinematographer Donald Mcalpine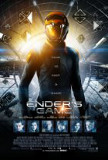 Ender's Game
Ender's Game, long a staple of science fiction readers, has had a strange, winding trip to the silver screen. For many years, Orson Scott Card refused to sell the rights to the book, wanting to maintain control over the final product. This iteratio... Moulin Rouge
Baz Luhrmann's Moulin Rouge is a rigorously accurate historical account of events that occurred during the period between 1899 and 1900 in Paris' infamous Moulin Rouge nightclub. Luhrmann's meticulously researched motion picture uncovers several s... Mrs. Doubtfire
It seems strange to watch Mrs. Doubtfire and not see Dustin Hoffman. This is, after all, a variation on Tootsie meets Kramer vs. Kramer, both of which featured Hoffman. Here, it's Robin Williams fighting for custody of his children, while donning... Stepmom
Stepmom is the kind of bad movie that can be blamed on just about everyone involved except, perhaps, the actors. There's nothing wrong with any of the performances, although they're wasted in the service of inferior material. The script is a mish...