Movies with cinematographer Glen Macpherson 16 Blocks
When I think of director Richard Donner, my mind gravitates toward titles like Superman and Lethal Weapon - high points in the filmmaker's career. Recently, however, Donner's output has been less impressive, and includes the bloated excess of Assa... One Missed Call
One Missed Call is yet another PG-13 horror movie adapted from a Japanese source. Taken in concert with The Ring, one has to wonder if these productions illustrate some subconscious fear of technology felt by the Japanese. First, they're being me...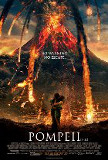 Pompeii
Pompeii is a big, glorious, cheesy mess. A fusion of Gladiator and Dante's Peak, it can't decide whether it wants to be an action film about coliseum combatants or a disaster flick. Predictably, by trying to be both, it ends up being good as ne... Rambo
In the Rambo canon, where does this one fit? The tone is closer to First Blood but the body count is more Rambo III. No matter how one dices and slices this new Rambo, the first one in 20 years, it will likely please fans of the long-in-the-tooth... Walking Tall
The Rock's on a roll. Anyone who doubts Dwayne Johnson can be the new millennium's answer to Arnold needs to look no further than his recent resume. The parallels are astonishing. Both come from non-acting fields where brawn is a key requisite. ...