Movies with music written by Lalo Schifrin After Sunset
After the Sunset is a mess, but it's a breezy, fun mess. No one is ever going to mistake this for great art, but it has a charismatic cast, moves with an effortless pace, and, in the end, almost makes you forget that it doesn't do anything memorab... Cool Hand Luke
"What we have here is… failure to communicate." In the history of motion pictures, there are a few - but only a few - better-known quotes. Even people who have never heard of Cool Hand Luke know that line (and can ape it with an imperfect Sto... Mission: Impossible
The first star vehicle of the summer of 1996 is also the first major disappointment of the season. Mission: Impossible, the big screen resurrection of the popular late-'60s/early-'70s series, fails to generate much in the way of excitement or ... Rush Hour
Considering his recent surge in American popularity, it was all-but-inevitable that Jackie Chan would eventually show up in a big-budget Hollywood action picture. (He hasn't been in one since he did the Cannonball Run films back in the early '8... Rush Hour 2
While the rules of the buddy/action comedy are significantly different from those of the romantic comedy, one key ingredient is common to both popular genres: that of chemistry between the leads. Unfortunately, while both motormouthed Chris Tucke... Rush Hour 3
It's hard to think of a sadder commentary about Hollywood's sequel fetish than the existence of Rush Hour 3. Dull, uninspired, and redundant, this third pointless movie in an action/comedy franchise that defines mediocrity doesn't even try to disg...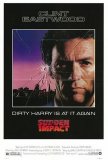 Sudden Impact
Before 1971, Clint Eastwood was known primarily for the long-running TV show Rawhide and his role as The Man With No Name in Sergio Leone's so-called "Spaghetti Westerns." That all changed during this pivotal year in Eastwood's career. In Novembe...