50/50 (United States, 2011)
September 28, 2011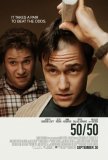 Movies about characters suffering from cancer are nothing new. Tales of dying individuals have won Oscars, built reputations, and sold millions of boxes of tissues. Finding a unique niche in this crowded field is a challenge, but director Jonathan Levine, working from a script by Will Reiser, has uncovered one. The key to his approach: treat life with cancer not as a tragedy but as a comedy, but do it with dignity and respect. Not an easy thing, to be sure. Too much humor and we lose the characters. Too little humor and it becomes a Lifetime Movie. Balance is the key and, for the most part, Levine finds it.
The title, 50/50, refers to the survival chances of the lead character, Adam (Joseph Gordon-Levitt), once it is determined that he has a rare form of spinal cancer. The people in his life react differently to the news. His girlfriend, Rachael (Bryce Dallas Howard), pledges to stand by him, then embarks upon an affair. His best friend, Kyle (Seth Rogen), tries to keep Adam's spirits up by turning life into a non-stop party. His mother (Anjelica Huston) goes into smothering mode despite also caring for a husband with Alzheimer's. While in chemotherapy, he meets two new friends: Alan (Philip Baker Hall) and Mitch (Matt Frewer), as well as a pretty therapist, Katherine (Anna Kendrick), whose inexperience leads her to take a more than professional interest in Adam.
There's little doubt that the basic narrative of 50/50 is assembled largely from clichés: a young man with cancer traverses the expected emotional spectrum, his girlfriend dumps him, he falls for his therapist, he befriends a couple of codgers who give important life lessons, etc. The thing that differentiates 50/50 is that it has a sense of humor. This isn't Terms of Endearment, where manipulation and artifice clog every frame. It's funny and heartfelt. Levine knows when to tickle the funny bone and when to slow things down so we realize the gravity of the situation. Some viewers will doubtless cry during the movie, but they'll laugh as well.
Joseph Gordon-Levitt does a yeoman's job as Adam, having stepped in for James McElroy at the last moment. Gordon-Levitt's transformation from an average Seattle-based public radio editor into a thin, cancer patient enduring the rigors of chemo is impressive. Rather than wearing a skullcap or using special effects to give him a chrome dome, he opted to shave his head - an activity that occurs on-screen. (If an actor is going to go that far, it needs to be filmed and used, although second takes are obviously not possible.) It's a strong, affecting performance - as good or better than 90% of the "cancer patient" portrayals previously committed to the screen. Seth Rogen, meanwhile, continues the comedian's walk into more serious fare, and it's surprising how affable the often abrasive actor is in this role. He has some hilariously off-color "Rogen-esque" lines but there are also moments when he shows more depth than he has exhibited in the past. Anna Kendrick, who has appeared in the Twilight movies but is better remembered for Up in the Air, radiates sweetness and innocence - qualities critical to our being able accept the tired therapist/patient romantic connection. And, in small roles, Philip Baker Hall and Matt Frewer steal scenes.
Levine comes to 50/50 with an unconventional resume that includes All the Boys Love Mandy Lane and The Wackness, so it's no surprise that there's a lot more here than just another production about a guy with cancer. There is a wealth of authenticity in the feel of the movie, as if Levine and/or his writer have endured some of this stuff. A lot of the subtle things speak of someone with an insider's knowledge. The comedy is never disrespectful. It's often dark - sometimes to the point of being gallows humor - but it reminds us there are really only two ways to stand face-to-face with mortality: with tears or with laughter. And, sometimes, the closer you get to the truth, the more difficult it becomes to tell one from the other. If that's 50/50's ultimate message, it is conveyed cleanly and clearly.
---
50/50 (United States, 2011)
---
Three...better movies of this genre
worse movies of this genre
Three...better movies of Joseph Gordon-Levitt
worse movies of Joseph Gordon-Levitt
Three...better movies of Seth Rogen
worse movies of Seth Rogen
Three...better movies of Anna Kendrick
worse movies of Anna Kendrick