Movies with cinematographer Karl Walter Lindenlaub Black Book
In the 1980s and 1990s, Paul Verhoeven made a name for himself in Hollywood, directing such high-profile films as Robocop, Basic Instinct, and Starship Troopers. Before arriving in America, however, Verhoeven had a flourishing career in the Netherl...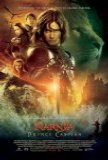 Chronicles of Narnia, The: Prince Caspian
For the second installment of The Chronicles of Narnia, director Andrew Adamson has caught a severe case of Lord of the Rings-itis. While the 2005 adaptation of The Lion, the Witch and the Wardrobe kept close to the tone of the book, Prince Caspia... Georgia Rule
The typical Garry Marshall film (Pretty Woman, Raising Helen) can be classified by a few words: contrived, insipid, and predictable. Georgia Rule, while not the worst work Marshall has done, is a limp misfire. There are moments during the course ... Guess Who
Despite the allusion in the title, Guess Who is not a remake of the classic Guess Who's Coming to Dinner. In fact, other than borrowing the underlying premise (girl brings home boyfriend of a different race to meet her family), there are few simil... Independence Day
Credit the marketing masters at Twentieth Century Fox -- they've managed to make Independence Day the most eagerly-anticipated motion picture of a potentially record- breaking summer. Tantalizing shots of the White House and Empire State Buildi... Rob Roy
Ultimately, it's of minor import how much of Rob Roy is based upon historical fact and how much has been embellished by the pen of screenwriter Alan Sharp. As a hero of 18th century Scotland, Robert Roy MacGregor is known to have walked through th... Stargate
There's a fine line between giving homage to something and stealing from it - and the division is usually defined by how creative and enjoyable the final product is. Using that distinction, Stargate is on uncertain ground. This new big-budget sci...