Movies with music written by Angelo Badalamenti Arlington Road
There's no doubt that the subject matter tackled by Arlington Road is topical. Terrorism at home is a very real danger in this current climate of world uncertainty, and, arguably, a greater danger is posed to U.S. security by radical political gro... Beach, The
Let me start with a disclosure: I have not read the Alex Garland novel upon which The Beach is based, so I'm not in a position to discuss firsthand whether or not it butchers its source text (according to some reports, it does). The film represen... Blue Velvet
Blue Velvet is David Lynch in peak form, and represents (to date) his most accomplished motion picture. It is a work of fascinating scope and power that rivals any of the most subversive films to reach the screens during the '80s. For Lynch, the ... City of Lost Children, The
In 1991, the creative team of Jean-Pierre Jeunet and Marc Caro introduced movie-goers to their nightmarish view of a post-apocalyptic world where troglodytes inhabited the underground and a butcher relied on apartment tenants to keep his meat cabin... Dark Water
Dark Water is the latest in the gaggle of Japanese ghost stories turned into major American motion pictures. The obvious virtue of this effort is that, unlike its predecessors The Ring and The Grudge, it makes sense. The problem is that director ...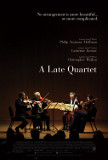 Late Quartet, A
The entrenchment of a top-flight cast should not be considered an indication of cinematic quality. Although it's true that good actors can sometimes redeem a bad screenplay, more often than not, they end up becoming trapped by it. Such is the case ... Lost Highway
Perhaps it's redundant to say that a David Lynch movie is weird (actually, "incomprehensible" might be a better word). Don't ask me to explain Lost Highway; I'm not sure I can. For that matter, don't ask Lynch, either. All he's willing to sa... Mulholland Drive
There was a time when David Lynch made coherent, challenging motion pictures. Love it or hate it, there's no doubt that Blue Velvet was one of the most talked-about motion pictures of the 1980s. Some consider it to be a masterpiece, while others vi... National Lampoon's Christmas Vacation
Guilty pleasure (n): a film that a critic shamefacedly admits to liking even though the prevailing opinion, as put forth by serious members of the profession, is that the movie is a piece of crap. Christmas Vacation is considered by many film ... Secretary
Secretary is just your regular, garden-variety romantic comedy with heavy doses of S&M/B&D. For those used to Meg Ryan and Tom Hanks exchanging chaste kisses, the content of this motion picture is going to seem awfully far out on the proverbial li...