Mission: Impossible - Dead Reckoning Part One (United States, 2023)
July 09, 2023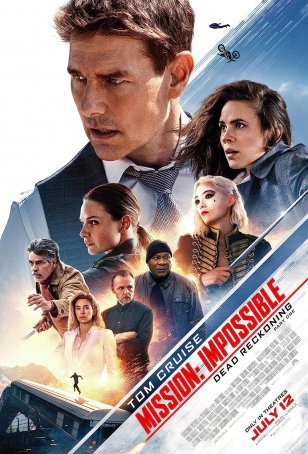 Although representing one of the most entertaining action/thriller franchises currently active, the James Bond-esque Mission: Impossible movies have been getting longer, and that's not necessarily a positive development. You know what they say about too much of a good thing… Dead Reckoning Part One, the seventh installment, clocks in at nearly 2 ¾ hours, and it's only the first half of the final chapter. If not for the big-screen spectacle aspects, this whole endeavor could have been released as a six-part streaming series – that's how long it will be once Part Two is available. (The aspirational date for that is June 2024.)
Christopher McQuarrie came on board with the fifth M:I, 2015's Rogue Nation. With that film, he brought a sense of order and consistency to the scattershot movie franchise, which had been around since 1996 when Brian DePalma rebooted the '60s/'70s espionage TV series. McQuarrie returned in 2018 for Fallout and is now back to helm the two-parter. McQuarrie's approach to M:I has been steadfast – combine traditional spy/thriller narrative elements with high-octane action set pieces. For Dead Reckoning Part One, the former have been somewhat simplified while he has doubled-down on the latter.
Although still heavily reliant on stunt work and traditional special effects, Dead Reckoning allows CGI onto the palette. Nevertheless, there's still a Big Tom Cruise Money Shot (in this case, a motorcycle jump off a mountain with a parachute finish) and several elaborate tent-pole sequences that keep the movie's big top from collapsing. These include a car chase (with Cruise and co-star Haley Attwell handcuffed together in a tiny yellow Fiat) and a sequence involving a crashing runaway train that could give the best Indiana Jones movie a run for its money when it comes to white-knuckle cliffhanger excitement.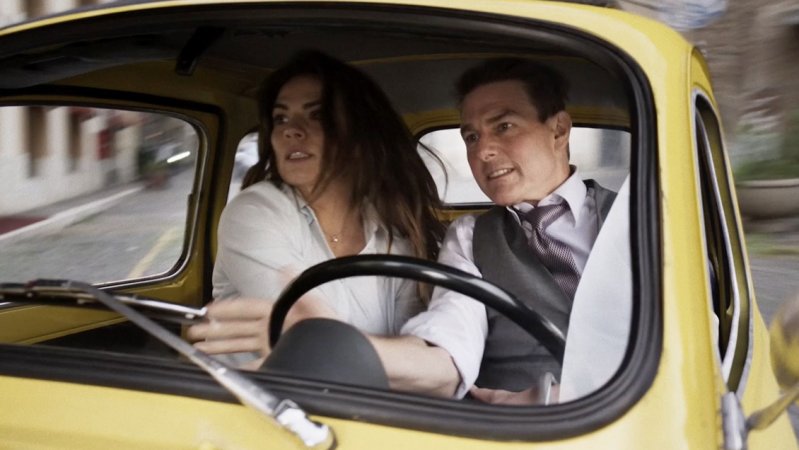 Dead Reckoning brings back Henry Czerny as CIA/IMF honcho Henry Kittridge, boss to protagonist Ethan Hunt (Cruise). M:I fans with a long memory will recognize him, but his previous appearance was all the way back in the 1996 debut movie. He has been brought back to replace Alec Baldwin, whose character was dispatched in Fallout. The MacGuffin-du-jour is a two-part key that provides the holder with control over the world's most advanced AI creation – an entity so advanced that it has achieved sentience and is starting to do Skynet-like things. This is the deepest into science fiction territory that any of the Mission: Impossible films have ventured. At any rate, Ethan's mission, should he choose to accept it, is to find the two pieces of the key and return them to Kittridge so the United States will be in a premium position once the entity's location has been determined. (We know from the prologue that it's on a destroyed Russian sub at the bottom of the ocean under a sheath of ice.)
Ethan does his usual globe-trotting routine, meeting with some old friends and returning enemies. These include long-time pals Luther (Ving Rhames, the only actor other than Cruise to have appeared in all seven M:I films) and Benji (Simon Pegg), quasi-love interest and rogue MI6 operative Ilsa Faust (Rebecca Ferguson), and the amoral White Widow (Vanessa Kirby) and her henchman, Zola (Frederick Schmidt). Newcomers include pesky agent Jasper Briggs (Shea Whigham), expert thief Grace (Hayley Atwell), chief villain Gabriel (Esai Morales), and his henchwoman, Paris (Pom Klementieff). Gabriel not only has a connection to the entity but shares a bloody past with Ethan.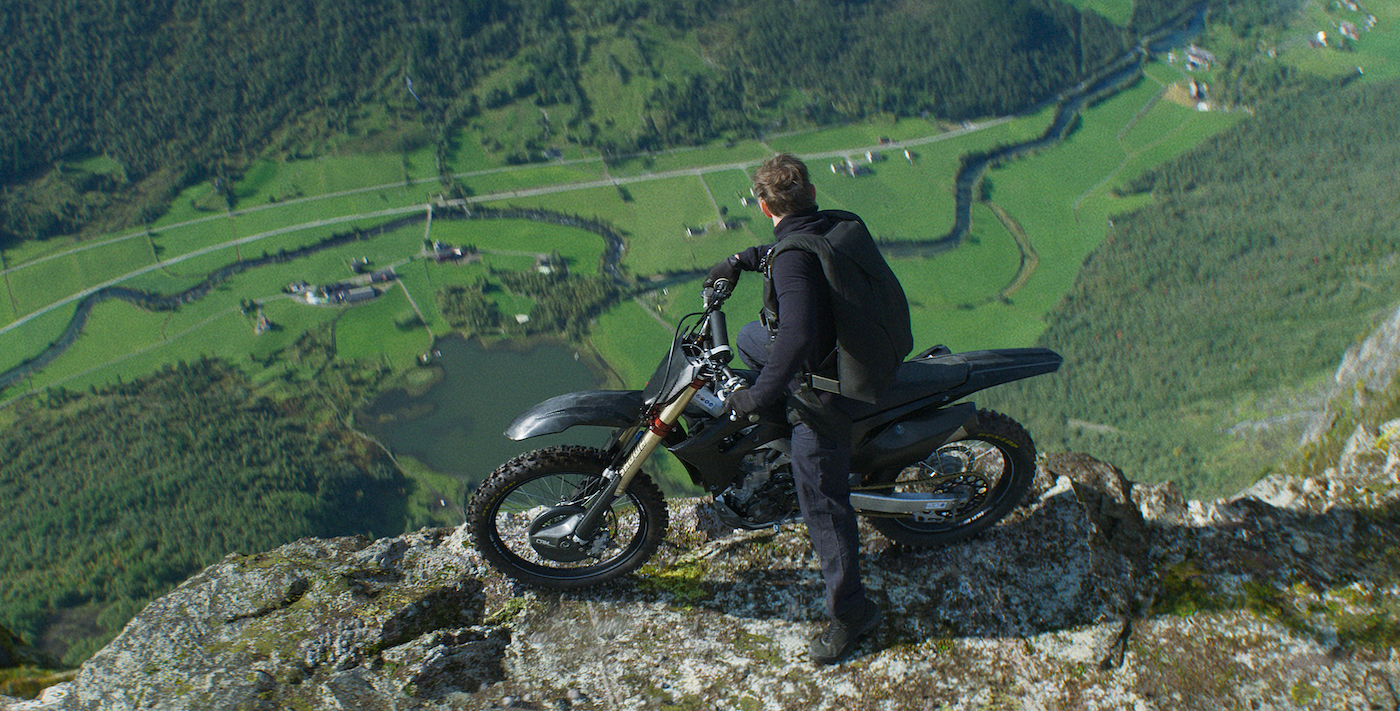 By openly referring to itself as Part One, Dead Reckoning doesn't hide the fact that it fails to tell a complete story. Despite this, however, it is conventionally constructed with a three-act structure. This allows it to be more satisfying than this summer's other two narratively-interrupted productions, Fast X and Spider-Man: Across the Spider-Verse. By no means does Dead Reckoning Part One resolve the major underlying plot through-line and plenty of lesser threads are left to dangle but the movie tells its own story and follows that to a conclusion. If multi-installment arcs are the future of big-budget, blockbuster productions, the approach favored by McQuarrie and his team could represent a template of how to do it right.
At 163 minutes, Dead Reckoning Part One turns into a bit of an endurance contest. That's too long to keep viewers on edge without exhaustion setting in. Although the film hits its stride around the 2/3 mark, resulting in a thrilling final hour, the first 90-or-so minutes are unevenly paced and top-heavy with expository dialogue. Early in the proceedings, there are some gaps and continuity jumps that hint at an even longer cut of the film having been pruned down.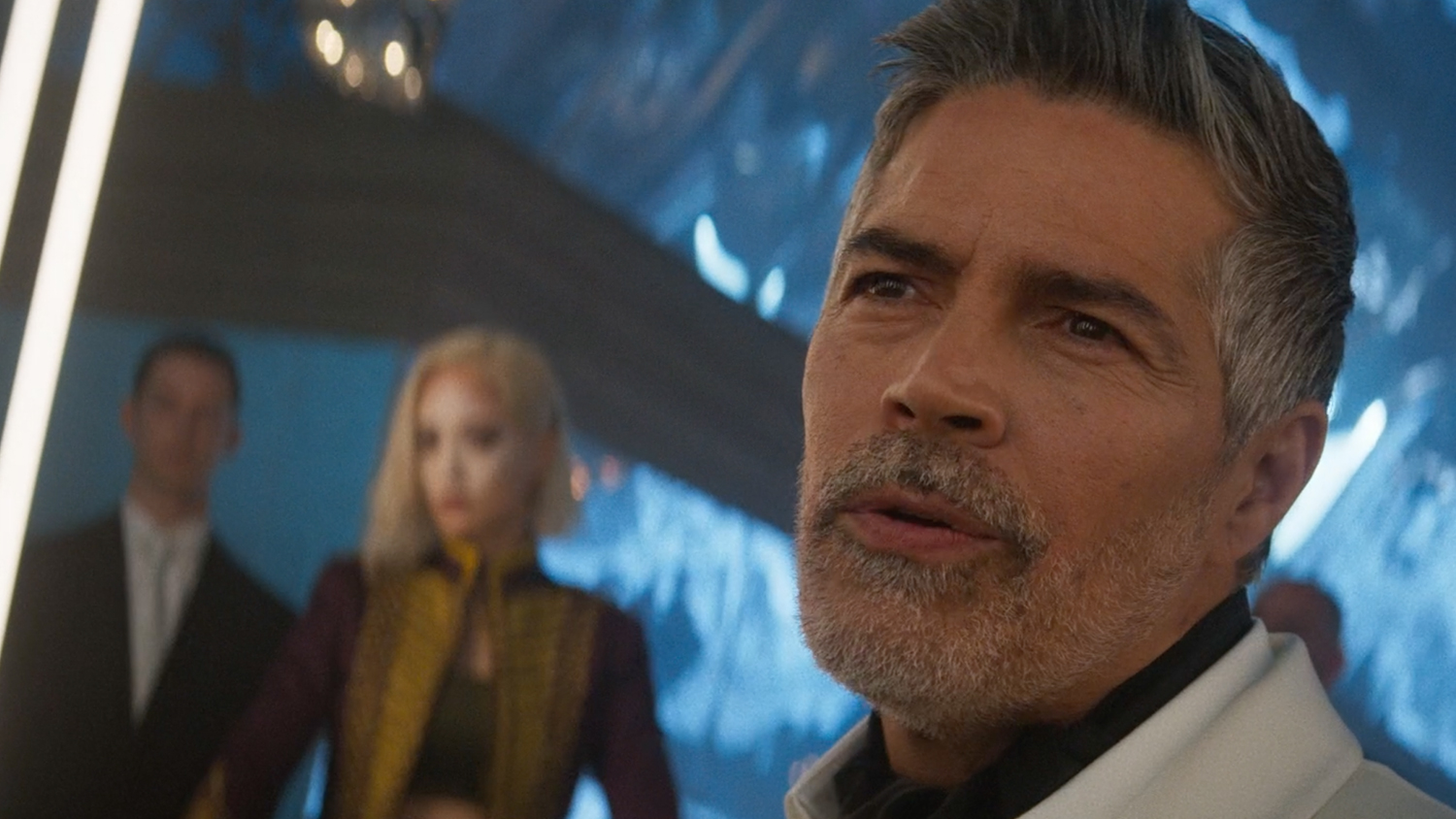 One of the pleasures of having both Ving Rhames and Simon Pegg back is that the easygoing rapport they have developed with Cruise over the years emerges in their interaction (both are also given a little more to do than has been the case in some of the installments). A disappointment is that minimal time is devoted to the simmering romance between Hunt and Rebecca Ferguson's Ilsa, who seemingly has been included in the film out of an obligation to her previous involvement. Esai Morales, although a fine actor, is only marginally successful as a villain. He lacks the panache necessary for a nomination to the Bad Guy Hall of Fame. He's a little too understated. The same cannot be said of Pom Klementieff (Mantis in the Guardians of the Galaxy films, here wearing a different sort of costume), who steals numerous scenes as the movie's nastiest badass.
Mission: Impossible Dead Reckoning Part One is an oversized, big budget popcorn flick, with all the positives and negatives one associates with that sort of glorious but ephemeral brand of filmmaking. It lacks the history to outclass the James Bond movies but has no problem being faster and more furious than anything Vin Diesel has put out. Like its predecessors, it's flawed but the flaws are easily overlooked in the moment.
---
Mission: Impossible - Dead Reckoning Part One (United States, 2023)
Director:
Christopher McQuarrie
Cast:
Tom Cruise
,
Henry Czerny
,
Shea Whigham
,
Frederick Schmidt
,
Vanessa Kirby
,
Pom Klementieff
,
Esai Morales
,
Hayley Atwell
,
Rebecca Ferguson
,
Simon Pegg
,
Ving Rhames
,
Cary Elwes
Screenplay:
Christopher McQuarrie & Eric Jendresen
Cinematography:
Fraser Taggart
Music:
Lorne Balfe
U.S. Distributor: Paramount Pictures
---
Three...better movies of this genre
worse movies of this genre
Three...better movies of Tom Cruise
worse movies of Tom Cruise
Three...better movies of Henry Czerny
(There are no more better movies of Henry Czerny)
worse movies of Henry Czerny
(There are no more worst movies of Henry Czerny)
Three...better movies of Shea Whigham
worse movies of Shea Whigham