Movies starring Renee Zellweger Leatherheads
There's a rule in Hollywood: spring is for baseball films; fall is for football films. It's a time-honored tradition that makes sense when one considers the seasonal popularity of the sports, but Leatherheads flouts it. This is a football-themed ... Me, Myself & Irene
After taking a break to become involved in the production of the small coming-of-age drama Outside Providence, the Farrelly Brothers are at it again. Their 1998 hit, There's Something About Mary, will forever be known for breaking the semen barrie... Miss Potter
Beatrix Potter may not be as well-known a name today as Harry Potter, but what child doesn't show recognition at the mention of "Peter Rabbit?" Miss Potter's most lasting contribution to the pantheon of characters from children's literature, Peter...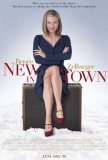 New in Town
Spoiler Alert: To the extent that the term "spoiler" can be applied to something this formulaic, I suppose I ought to warn readers that I talk in general terms about how the movie ends. What do you get when you mix A Christmas Carol with a subst... Price above Rubies, A
A Price Above Rubies is writer/director Boaz Yakin's follow-up to his highly-regarded, tautly-paced 1994 picture, Fresh. Sadly, little of the energy and intelligence of the earlier film is evident in this, an overwrought melodrama populated ... Shark Tale
The first salvo in the battle of the would-be autumn family blockbusters has been fired by Dreamworks. Beating The Incredibles to the screen by more than a month, Shark Tale represents the fourth digitally animated feature to come from the studio ... White Oleander
White Oleander is a flower - a hearty-but-poisonous flower whose beauty makes it appear deceptively fragile. This blossom, which appears several times throughout the film that takes its name, is a perfect metaphor for Ingrid Magnussen, the charact... Whole Wide World, The
During the course of his short, stormy life, Depression era writer Robert E. Howard created more than two dozen pulp heroes, and wrote hundreds of short stories. His best-known creation, Conan the Barbarian, became so popular during the 1970s...