Movies with music written by Ed Shearmur 88 Minutes
It's always a shock when a movie turns out to be this bad. It's an even bigger shock when it features an actor of the caliber and reputation of Al Pacino. 88 Minutes is one of the dumbest thrillers to arrive it theaters in a long time, so it's no... Bad News Bears, The
Bad News Bears may be the most entertaining remake of the year (thus far), but that's less a statement of praise than it is a condemnation of this class of movies. With a script co-credited to Bill Lancaster, who penned the original 1976 screenpla...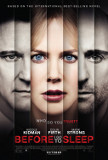 Before I Go to Sleep
Memory: it's an integral element to our definition of who we are. In our lives, most of us forget far more than we remember, but our ability to recall events, faces, and names forms the building blocks of our identity. It's no surprise, therefore,... Charlie's Angels
When Charlie's Angels first hit the TV airwaves in the 1976-77 season, it was a national phenomenon. Every Wednesday night, millions of household sets would be tuned into ABC for the further adventures of the three "legs" of millionaire private in... Epic Movie
When did this sort of movie stop being funny? Parodies with so-called "saturation humor" used to be reliable - rarely memorable but typically good for 90 minutes of enjoyable, disposable cinema. At some point, however, the jokes lost their zing, ... Ex, The
There's a prescription for making an effective dark comedy: the film must generate equal parts discomfort and laughter. The Ex offers plenty of the former but precious little of the latter. The movie is populated by dislikeable individuals doing ...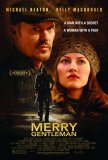 Merry Gentleman, The
The Merry Gentleman, which represents the feature directorial debut of actor Michael Keaton, is a meditation on loneliness and about the things we do to fill up those big, empty gaps in life. Anchoring the film, which is driven more by characters ... Miss Congeniality
If there were lingering doubts that the time has come to write an obituary for Sandra Bullock's days as a leading lady, Miss Congeniality should dispel them. Trailing in the wake of a string of duds, the most recent of which were the un-releasable... Nine Lives
What's the point? If I wanted to spend 12 minutes watching someone pushing a cart around a grocery store, I'd go to the local A&P, not sit in a movie theater. At least then I could get the week's shopping done. Nine Lives is a failed experiment...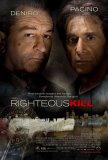 Righteous Kill
Righteous Kill is the third movie in which screen icons Robert De Niro and Al Pacino both appear, but only the second in which they share screen time. 13 years ago, Michael Mann scored a coup by filming the first scene with these two sitting oppos...