Movies starring Donna Murphy Astronaut's Wife, The
The Astronaut's Wife is the latest demonstration of how a good "high concept" does not necessarily translate into a decent motion picture. With its Invasion of the Bodysnatchers-inspired storyline, this movie could have been an effectively creepy ...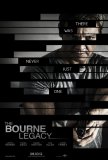 Bourne Legacy, The
The total worldwide box office gross for the first three Jason Bourne movies (The Bourne Identity, The Bourne Supremacy, The Bourne Ultimatum) is nearly one billion dollars (more if adjusted for inflation). With that kind of money in play, was ther... Center Stage
Center Stage proves that all the sports movie cliches can be as successfully applied to ballet as to baseball, basketball, football, boxing, ice skating, skateboarding, karate, etc. With a plot that is constructed entirely out of formula situation... Fountain, The
The Fountain is Darren Aronofsky trying to be Stanley Kubrick. However, while Aronofsky is able to match Kubrick frame-by-frame for ending ambiguity, that's one of the few areas in which The Fountain keeps pace with 2001. Technically, this is an im... Jade
Jade is for cinematic anglers. There are a lot of fish inhabiting the murky, muddy waters of Joe Eszterhas' latest script, and, except for the occasional shark or two, most of them are herrings -- red herrings, to be precise. However, unlik... Nanny Diaries, The
Tone is the most noteworthy aspect of Shari Springer Berman and Robert Pulcini's The Nanny Diaries. In adapting the best-selling 2002 novel by Emma McLaughlin and Nicola Kraus, the husband-and-wife team behind American Splendor have tried to keep ... Spider-Man 2
Spider-Man 2 has all the elements of a good, but not great, superhero motion picture. While lacking the tragic grandeur that made last year's Hulk such a unique experience, Spider-Man 2 fills the void with solid character development, self-referen...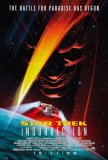 Star Trek: Insurrection
In the wake of the rousingly successful Star Trek: First Contact, the movie that brought the franchise back from the moribund wasteland of entries 5, 6, and 7, comes feature film #9, Star Trek: Insurrection. The good news for Trekkers and casual m...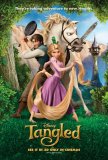 Tangled
Seen in "standard" (non-IMAX) 3-D. Tangled (which was called Rapunzel until the 11th hour) represents Disney's application of "new" technology to an old format. In many ways that matter, this film recalls the recent classics of the Magic Kingdo...