Movies starring Elizabeth Perkins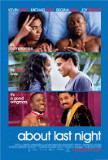 About Last Night...
A marriage between the creative talents of David Mamet and Edward Zwick might seem to be an unlikely union but, in the case of 1986 feature About Last Night..., it is surprisingly effective. Zwick, best known for the emotional resonance he brings ...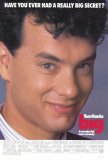 Big
Big came out of nowhere during the summer of 1988 and captured universal raves. More than two decades later, despite indications of dating, it remains a popular motion picture, in large part because it's one the few "body swap" movies - a popular ... Fierce People
Fierce People starts out as a satire-tinged, jocular drama that undergoes a jarring shift in tone to the dark side. While the film successfully makes light of such subjects as drug addiction and coma victims during its first half, the event that o... Miracle on 34th Street
Yes, Virginia, there is a Santa Claus. Every year around the Christmas season, it seems impossible to turn on the television without seeing either George Seaton's Miracle on 34th Street or Frank Capra's It's a Wonderful Life. Like Handel's "Me... Must Love Dogs
Must Love Dogs is a product - a pre-packaged, easily-digestible motion picture designed with one particular audience in mind. You know the kind of film. You have seen it before, usually with names like Nancy Myers or Nora & Delia Ephron involved.... Ring 2, The
As far as I'm concerned, it's official: Hollywood has lost the art of how to make horror films. Consider this year's entries as Exhibit A - everything from White Noise to The Ring 2 has been horrible. There's not a worthwhile film in the bunch. ...