Movies starring Jay Mohr Go
Go is the latest piece of high-octane eye candy aimed squarely at members of the infamous Generation X. Fast-paced and often witty, but ultimately vapid, Go borrows heavily both in rhythm and approach from Quentin Tarantino's Pulp Fiction. And, s...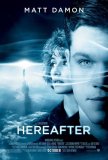 Hereafter
It's safe to say that, as a director, Clint Eastwood shows no fear. Only a few years beyond telling the story of Iwo Jima from the Japanese point-of-view, Eastwood ventures down another little traveled cinematic avenue by making what is essentiall... Jerry Maguire
Every time I think Hollywood has slipped beyond redemption, someone in the system produces a film like Jerry Maguire that renews my faith. Apparently, creativity is not dead in the mainstream movie market -- not entirely, at least. This is th... Mafia!
Perhaps the most intriguing question associated with this movie is what to call it. Originally, the film bore the moniker of Jane Austen's Mafia, but, when test audiences were confused by the title (an inexcusable 90% of Americans claim not to kno... Pay It Forward
Pay It Forward couldn't have more obvious aspirations if the filmmakers announced them. Featuring a top-notch cast; an adept script that meshes tragedy, light comedy, romance, and melodrama; and the kind of overall optimism that is a perfect tonic... Playing by Heart
Playing by Heart is an ensemble dramatic comedy about the many faces of love: romance, longing, loss, sex, and lust. Set in modern-day L.A., the film tells six seemingly-unrelated tales about men and women finding each other, losing each other, u...