Movies starring Luis Guzman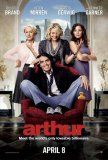 Arthur
It's amazing how a lifeless, pointless remake can provoke pangs of nostalgia about a mediocre movie. Such is the case with Arthur. The kindest thoughts I have ever experienced about the 1981 original occurred while I was watching Russell Brand and... Boogie Nights
There was a time during the long history of the adult entertainment industry that porn films showed signs of artistic ambition. During the late '70s, a small cadre of directors believed that they could combine the raunch of real sex with an in... Dreamer
While many movies claim to be based on true stories, Dreamer takes it one step further. The film's official name is Dreamer: Inspired by a True Story. The word "inspired" allows a lot of creative license. In fact, very little of what happens in ... Dumb and Dumberer
Just when I thought it was safe to go back in theaters on Friday the 13th – with Jason having decided to postpone his duel with Robert Englund's nightmare-prowling pizza face until later in the summer – along comes a seemingly innocent movie th... Fast Food Nation
The idea underlying Fast Food Nation is intriguing: take the premise of the best-selling non-fiction book by Eric Schlosser and convert it into the backstory of a fictional film. Where director Richard Linklater runs into trouble is in the executi...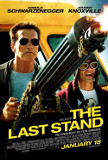 Last Stand, The
Old action heroes don't die or fade away; they just keep going. Once upon a time, being an action star had an expiration date. Now, as long as there's some acknowledgment of the aging process - a line here, a joke there - it's viewed as more of ... Limey, The
Terence Stamp is The Limey, and The Limey is Terence Stamp. Forget about everything else in this film - the supporting cast, which features Lesley Ann Warren, Luis Guzman, and Peter Fonda, Steven Soderbergh's lively direction, and even Lem Dobbs' ...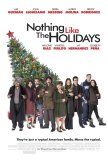 Nothing Like the Holidays
There are generally two kinds of Christmas movies: those designed for family audiences and those that should probably have aired on the Hallmark Channel instead of opening in a movie theater. Nothing Like the Holidays belongs in the latter categor... Punch Drunk Love
Punch Drunk Love represents a departure on the part of two key participants. For Adam Sandler, who portrays the film's protagonist, this is an attempt to play it straight, without falling back on antics, physical comedy, or silliness. For Paul Th... Q&A
Q & A is testimony to the validity of the old adage: a good story, when well told, can never be told too many times. With this movie, director Sidney Lumet doesn't bring anything radical to the screen. The premise - a decorated cop discovered to ...