Movies starring Tony Shalhoub Big Night
From time immemorial, the experience of eating a good meal has been regarded as one of life's most hedonistic pleasures. In a recent survey, more than 50% of Americans indicated they would rather eat a memorable dinner than experience a night of u... Cars
Thus far, Pixar has given features and voices to bugs, toys, monsters, and fish, so why not cars? Although Cars is arguably the weakest animated feature to emerge from the virtual drawing board at this successful company, it's also the best animat... Civil Action, A
Let me begin this review by stating that I am weary of courtroom dramas. This is in large part because of John Grisham, whose popularity has encouraged screenwriters exploring this genre to fall into familiar, predictable patterns. Seen in retros... Galaxy Quest
Back in the years when Star Trek was still a cult phenomenon (instead of a mainstream cash cow for Paramount Pictures), fan fiction was about the only way Trekkies could experience the latest exploits of their favorite characters. One of the more ... Men in Black
Have you ever seen a tabloid headline like this: "Woman gives birth to son of six-headed alien"? Men in Black, the new science fiction comedy from cinematographer-turned-director Barry Sonnenfeld (Get Shorty), postulates that such stories are not...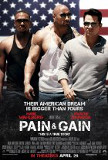 Pain & Gain
With a title like Pain & Gain and Michael Bay at the helm, this review looked like a great opportunity for a vitriolic screed, but that's not going to happen. Defying expectations, Pain & Gain not only represents one of the best movies Bay has made... Siege, The
It's not hard to argue that Edward Zwick is one of the best Hollywood film makers toiling in obscurity. Although the average movie-goer recognizes the names of directors like Scorsese, Spielberg, Zemeckis, and Stone, Zwick is relatively unknown. ...