Movies with music written by Randy Edelman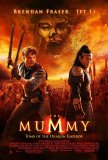 Mummy, The: Tomb of the Dragon Emperor
It has been a bad year for Indiana Jones and his knock-offs. In the wake of the lackluster Indiana Jones and the Kingdom of the Crystal Skull, we now have the second sequel to The Mummy, called Tomb of the Dragon Emperor. It is easily the worst o... Six Days, Seven Nights
The scenery is great, the actors are appealing, and the special effects are suitably low-key… all that's missing from Ivan Reitman's Six Days, Seven Nights is a plot with a moment's originality. This movie takes chunks from Romancing the Sto... While You Were Sleeping
While it's true that making good romantic comedies is still something of an art, producing average films of the genre has become a science. Take a little chemistry, a portion of physics, some basic biology, and mix them together according to a wel... Whole Nine Yards, The
The Whole Nine Yards suffers from split personality syndrome - it's a strange hybrid of film noir and comedy. At first, this might not seem like an unusual approach, until you recall that most movies of this ilk are satires. That's not what's goi... XXX
For Vin Diesel, starring in XXX is a wonderfully smart career move. Too bad neither "wonderful" nor "smart" are applicable adjectives to describe this film. XXX is proof positive that it's easier to fail than succeed with the James Bond formula, ...