Movies starring Hope Davis About Schmidt
When you're young, you live your life looking forward. The future looms larger and more full of promise than the past, and everyone not afflicted with incurable pessimism believes that the best is yet to come. But all things age, and die, and wit... Arlington Road
There's no doubt that the subject matter tackled by Arlington Road is topical. Terrorism at home is a very real danger in this current climate of world uncertainty, and, arguably, a greater danger is posed to U.S. security by radical political gro... Charlie Bartlett
It's a given that most comedies centered around kids and high schools will involve, to one degree or another, the subject of popularity. For the average teenager, few things are more important than being liked. The ultimate high is being recognize... Daytrippers, The
Pity poor Eliza (Hope Davis). On the surface, her family seems normal. She lives with her husband, Luis (Stanley Tucci), in a nice, Long Island home only a short distance from her parents' house. Under that roof are her mom, Rita (Anne Meara), ...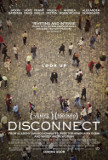 Disconnect
Disconnect, Henry Alex Rubin's meditation on how we communicate in the age of electronics and social media, is a deeply flawed motion picture containing moments of brilliance that illustrate its strong thematic content. A triptych of tales connecte... Hoax, The
In the tradition of Shattered Glass and Catch Me if You Can, The Hoax presents the anatomy of an audacious con artist and illustrates how the sin eventually catches up with the sinner. Due to an uneven tone, various unresolved plot threads, and a ... Infamous
Another year, another movie about Truman Capote. However, despite covering much the same ground as last year's Capote, Douglas McGrath's Infamous doesn't feel like a remake. The events are the same, but the tone and perspective are different. Ca... Matador, The
It's not hard to be enthusiastic about The Matador, an uncommon buddy film starring Pierce Brosnan and Greg Kinnear. The movie has a nicely modulated mix of comedy and pathos, but succeeds as much because of the two lead performances as Richard She... Next Stop, Wonderland
When I first saw Next Stop, Wonderland at a packed screening in the Egyptian Theater during this year's Sundance Film Festival, I was not impressed, and couldn't understand why Miramax Films would ante up $6 million for what is fundamentally a re-t... Proof
Maybe it's my math/engineering background, but I found Proof to be fascinating both on the stage and on the screen. Actually, appreciation of the film demands little math knowledge (aside from recognizing that a "proof" is a logical set of equatio...