Movies with music written by Graeme Revell Aeon Flux
I'll never understand why studios sometimes choose to withhold films from critics. The lack of advance screenings of Aeon Flux establishes an expectation that the film is likely to be tough to sit through. It's the studio's way of throwing in th... Assault on Precinct 13
What is the world coming to when the film community is remaking John Carpenter movies? Admittedly, Assault on Precinct 13 isn't the best example of Carpenter's expert craftsmanship, but it was the picture that got him noticed, and that notice enab...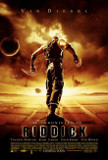 Chronicles of Riddick, The
With a title like The Chronicles of Riddick, one can assume that David Twohy's movie comes with lofty aspirations. Indeed, there are hints of a complex, involving story here. Unfortunately, too many of the nuances are drowned out by incessant, re... Collateral Damage
Once, Arnold Schwarzenegger strode across the screen like a god. Never an actor, but always an icon, Schwarzenegger's presence was so commanding that even his critics were forced to take notice. Part charisma, part swagger, he would blow into mul... Condemned, The
The Condemned is the latest action film from director Scott Wiper. It is also a noun describing those poor viewers who end up stuck in a theater showing this film. In principle, I'm all for balls-to-the-wall action films that serve up a fifth of ... Crow, The
The Crow is a gothic nightmare. With a view of Detroit that is every bit as bleak and dazzling as the urban panoramas presented in Batman and Blade Runner, this film makes it clear from the outset that wherever its flaws may lie, they will not be ... Daredevil
In the Pantheon of Marvel Comics superheroes, Daredevil is more of a demi-god than a full-blown deity. He's a notch below Spider-Man, The Fantastic Four, The Hulk, and The X-Men. 20th Century Fox has acknowledged this when determining Daredevil's... From Dusk Till Dawn
It's great fun, but certainly not great art. From Dusk Till Dawn, a special effects blood-and-gore extravaganza from director Robert Rodriguez, follows in the footsteps of such cult classics as Sam Raimi's Evil Dead series, thumbing its nose at con... Hard Target
Take a deep breath and prepare to suspend your disbelief, because in bringing us this summer's first (and probably only) pure action film, Jean-Claude Van Damme and John Woo have given new meaning to the word "preposterous". Chance Boudreaux (Va... Harsh Times
First and foremost, Harsh Times is a character study of a man whose psychotic dark side is rising up to dominate his personality. However, it's also a look at how war, because of its need to legitimatize killing and turn people into weapons, can r...