Movies starring Chris O'Donnell Batman and Robin
With Batman and Robin, the fourth entry in the recent Batman movie series, the profitable franchise appears poised to take a nosedive. This film, which places yet another actor in the batsuit, has all the necessary hallmarks of a sorry sequel... Batman Forever
It's lighter, brighter, funnier, faster-paced, and a whole lot more colorful than before. There's a new actor underneath the cape, a new girlfriend on his arm, and a new partner by his side. The director is different and the composer has changed.... Circle of Friends
Circle of Friends is the motion picture equivalent of a dime store romance novel. It has all the requisite elements -- it's a period piece (the bulk of the story takes place in the late 1950s); boasts women with heaving bosoms and a young, virile ... Cookie's Fortune
Cookie's Fortune deserves to be appreciated on its own terms. A less-ambitious outing from veteran director Robert Altman (at least when compared to movies like Nashville, The Player, and Short Cuts), this movie delivers agreeable performances and... Mad Love
Mad Love is a flawed movie that can't decide whether it wants to be a drama about mental illness, a tale of teen romance and rebellion, or a road picture. It's not that these three are necessarily mutually exclusive, but Mad Love's agenda makes th...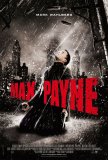 Max Payne
"I don't believe in heaven. I believe in pain. I believe in fear. I believe in death." So states Max Payne (Mark Wahlberg), elucidating his nihilistic creed during the film's opening moments. While the movie bearing the title character's name h... Scent of a Woman
Scent of a Woman is about Charles Simms (Chris O'Donnell), a Boston prep school senior, and the Thanksgiving weekend he spends working as the aide and companion of Lt. Colonel Frank Slade (Al Pacino), an embittered, lonely, blind veteran. The job,...