Movies with cinematographer Peter Biziou Derailed
Spoilers – sort of: Although this is not a spoiler-heavy review, there are implied spoilers. While specifics are not revealed, anyone good at reading between lines may learn more about the movie than they want to. Those in search of a "virgin" ... In the Name of the Father
Sometimes it's only through the greatest of tragedies and the gravest of injustices that human beings learn to relate to each other honestly and openly. Nowhere is this more apparent than in Jim Sheridan's searing In the Name of the Father, where ...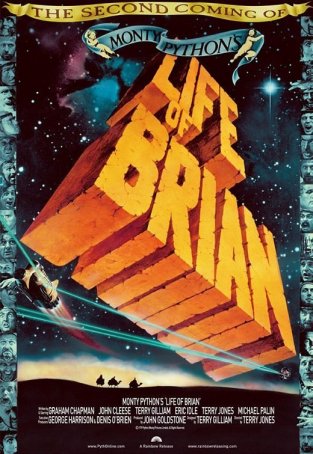 Monty Python's the Life of Brian
Each of the three "official" Monty Python movies has its own distinguishing quality. The first, 1975's Monty Python and The Holy Grail, is arguably the funniest and (in some ways) the silliest. The last, 1983's The Meaning of Life, is the most un... Richard III
Richard III - it's Shakespeare that has nothing to do with Kenneth Branagh. Actually, at first glance, this film doesn't appear to have anything to do with the Bard's play, either. Opening in a 1930's England war room with a tank crashing through... Time Bandits
Ever wondered what Dorothy's trip along the Yellow Brick Road might have been like if, instead of traveling with the Scarecrow, the Tin Man, and the Cowardly Lion, she had been accompanied by H.G. Welles, Roald Dahl, and Monty Python? Or how C.S. ... Truman Show, The
Truman Burbank (Jim Carrey) is the star of the most popular show in the history of television. For 10,909 days, it has been on the air, using 5000 cameras to show every moment in every day of the life of one man. The public loves it -- there ... Unfaithful
Adrian Lyne must have a fascination for examining the ins and outs of marital infidelity. Unfaithful, Lyne's first outing since the controversial Lolita, follows in the distant wake of Fatal Attraction and Indecent Proposal. In some ways, Unfaith...