Movies with music written by George Fenton Groundhog Day
The date is February 2 and the place is Punxsutawney, Pennsylvania. Pittsburgh weatherman Phil Connors (Bill Murray), on hand to cover the Groundhog Day ceremony, is having one of the most unpleasant experiences of his life. It's one of th... Hitch
Hitch is a pleasant, if slightly overlong, romantic comedy from two men who have forged reputations in the genre. Director Andy Tennant is no stranger to love stories, having previously helmed Fools Rush In, Ever After, and Sweet Home Alabama. And,... Land and Freedom
One of the most consistent makers of excellent motion pictures during the 1980s and 1990s has been Ken Loach. With a resume highlighted by such unforgettable titles as Hidden Agenda, Riff-Raff, Raining Stones, and Ladybird, Ladybird, Loach is reco... Madness of King George, The
If the score of Immortal Beloved is remarkable, that of The Madness of King George is no less so. With the clear strains of Handel's "Water Music" and "Zadok the Priest" in the background, The Madness of King George ascends to a level that it migh... Mixed Nuts
Gag. There must be something about the combination of Steve Martin and Nora Ephron that doesn't work. Anyone remember My Blue Heaven? (For that matter, does anyone want to remember My Blue Heaven?) Regardless of how dreadfully unfunny that Ma... Mrs. Henderson Presents
For all those who think movies don't have enough naked female flesh, welcome to Mrs. Henderson Presents. It would have been interesting to witness the MPAA's deliberations about this film. There's some violence, but not much. There's no sex or sex-... My Name Is Joe
Movie-goers attend Ken Loach movies for a variety of reasons, but one of them is not to have a "feel good" experience. The reason? Loach consistently looks at believable characters in realistic situations. His pictures are not escapist; they're ... Object of My Affection, The
The Object of My Affection, based on the novel of the same name by Stephen McCauley, is a pleasant romantic comedy that asks (and tries to answer) questions about the nature of love, sex, family, and friendship. And, while some of the solutions ar...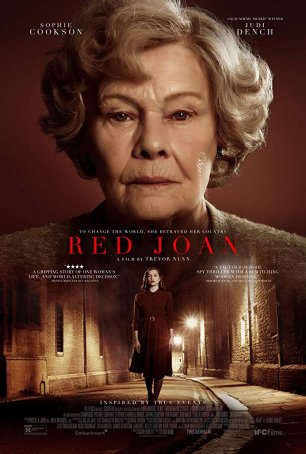 Red Joan
Somewhere buried in the structurally unsound and unevenly paced Red Joan, there exists the material for not only one but two intriguing motion pictures. Unfortunately, neither manages to struggle to the surface and we're left with a mediocr... Shadowlands
"What was [Joy] to me? She was my daughter and my mother, my pupil and my teacher, my subject and my sovereign; and always, holding all these in solution, my trusty comrade, friend, shipmate, fellow-soldier. My mistress; but at the same time all ...