Movies starring Geoffrey Rush Munich
A film of uncommon depth, intelligence, and sensitivity, Munich defies easy labeling. Watching the movie is like reading a top-notch espionage thriller by Le Carre or Deighton. Yet, at the same time, this is a visual experience. The moral and ethic... Shine
Shine is a deceptively simple title for an amazingly powerful motion picture. Based on the life story of Australian pianist David Helfgott, director Scott Hicks' (Sebastian and the Sparrow) film touches on themes as diverse as the nature of genius... Intolerable Cruelty
For whatever reason, the Coen Brothers' comedies (such as Raising Arizona, The Hudsucker Proxy, and The Big Lebowski) have always garnered less critical attention than the filmmakers' more serious fare (such as Blood Simple, Barton Fink, and Fargo)... Finding Nemo
The more things change, the more they stay the same. As we enter the summer of 2003, Walt Disney Pictures reigns supreme as the distributor of the best animated fare. Yet, less than a dozen years after Beauty and the Beast became the first (and t...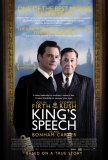 King's Speech, The
The King's Speech delivers solid drama with a rousing climax - a fully satisfying and uplifting period piece that achieves its dramatic potential without sacrificing historical accuracy. Unless you count Hitler, who is seen from afar, the narrative... Elizabeth
The reign of Queen Elizabeth I of England began in 1558, when, at the age of 25, she succeeded her half-sister, Mary. Over the course of the next 45 years, Elizabeth established herself as one of the most popular and successful monarchs ever to ru... Pirates of the Caribbean: The Curse of the Black Pearl
For those taking a global view of Pirates of the Caribbean: The Curse of the Black Pearl, it's very easy to be cynical. This is, after all, cross-promotion at its most blatant. What could be more marketable that one of Disney's most popular theme... Candy
Candy is an Australian film that also offers a dose of familiarity. It's one of those drugs-are-hell movies that follows the time-tested path of watching two generally likable characters embark upon the road to self-destruction that results when re... Shakespeare in Love
In 1998, there have been two films about space debris on a collision course with Earth, two animated insect movies, and now two tales about life during the reign of Queen Elizabeth. Granted, there's a yawning chasm in tone between the dark, treach... Les Miserables (1998)
As written by Victor Hugo, the 19th century classic novel Les Miserables is a long, sprawling epic that encompasses everything from the political upheaval of post-Revolutionary France to the intimate orchestrations of the heart. Over the years, mi...