Movies starring Gerard Butler Nim's Island
Whenever a movie addresses the subject of a girl living alone on a desert island, the soft porn warning lights go on. So it may come as a bit of a surprise that Nim's Island is a family film in which no one considers skinny-dipping. What's more, i...
Olympus Has Fallen
There's irony to be found in the recognition that the best Die Hard to be released in 2013 isn't the franchise's official entry, A Good Day to Die Hard, but the White House-based copycat, Olympus Has Fallen. And, while Gerard Butler is no Bruce Wil... P.S. I Love You
If you want an insightful movie about the grieving process, check out Grace Is Gone, which explores how a suddenly single father must cope not only with the loss of his wife but must face telling his daughters that their mother is not coming home. ... Phantom of the Opera, The
I have never been a fan of Andrew Lloyd Webber's phenomenally popular stage musical version of The Phantom of the Opera, so it will probably come as no surprise that the film adaptation, which is faithful to its inspiration, left me feeling underwh...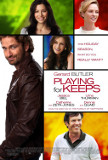 Playing for Keeps
Playing for Keeps is a sloppy, poorly focused comedy that wants to be about the relationship between a father and his 9-year old son but ends up being about nearly everything else. The core problem is clear: the interaction between ex-soccer star G...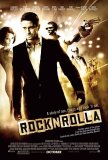 RocknRolla
Guy Ritchie made his mark for film-goers not by marrying one of the world's most visible pop stars, but by crafting Lock, Stock and Two Smoking Barrels and Snatch. He exploded onto the cinematic scene with the former; the reaction from Hollywood wa... Tomb Raider: The Cradle of Life
Tomb Raider: The Cradle of Life arrives stillborn, the misbegotten offspring of filmmakers who are so greedy that they probably wouldn't hesitate to plunder a grave or two. I would be tempted to recommend this movie as being entertainment of the "...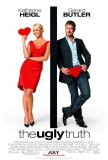 Ugly Truth, The
Hollywood, it seems, has lost the knack of how to make a good romantic comedy. The best two such films of 2009, Adventureland and (500) Days of Summer, have come down the indie trail. The major studios are unwilling to fund any production that do...