Movies starring James Woods Any Given Sunday
It is well known that superlative film editing can save a mediocre motion picture. Sadly, the opposite can also be true. A case in point is Any Given Sunday, which, despite a potentially engaging story and a number of good performances, is at tim... Casino
After viewing Casino, you may never look at Las Vegas in quite the same way. While this film, adapted from Nicholas Pileggi's nonfiction book, Casino: Love and Honor in Las Vegas, doesn't offer much in the way of startling revelations, it presents... Contact
Contact is likely to change a lot of perceptions -- not only about the role of humankind in the universe, but about what special effects can do for a movie when they're used in the service of a story, rather than the other way around. Contact... Final Fantasy
Computer gaming fans have two reasons to rejoice during the summer of 2001: Tomb Raider and Final Fantasy: The Spirits Within. However, although both are based on best-selling software, the approach taken by the filmmakers (Simon West for Tomb Ra... Hercules
Let me start by saying that Hercules, Walt Disney Pictures' 35th animated feature, makes for good family entertainment. Good, not great. While this film is capable of providing a ninety minute diversion for both kids and adults, it's a far cr... Nixon
It's always a tricky proposition to make a motion picture based on recent history -- and the more public the episode, the more difficult it is for the film maker to balance drama with accuracy. This is especially true when that film maker is Olive... Pretty Persuasion
Pretty Persuasion opens with more promise than it closes with. It doesn't take long for the cattily satirical tone to become monotonous as the characters refuse all attempts at development and the plot treads water into the shallows. The film tri... Scary Movie 2
Uninspired. Pointless. Lifeless. Obligatory. Those are a few of the adjectives that can be used to describe Keenen Ivory Wayans' Scary Movie 2, the profit-driven sequel to the surprise 2000 hit, Scary Movie. Like far too many follow-up motion ... Specialist, The
If I were in a kind mood, I might say that The Specialist attempts to be an atmospheric, dramatic thriller. On the other hand, if I wanted to be truthful, I could note that this film has two obvious assets (both of which are used to maximum advant...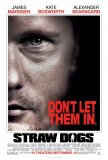 Straw Dogs
Sam Peckinpah's 1971 adaptation of Gordon Williams' novel elicited more controversy than the uncompromising director expected, in large part because of the unflinching and somewhat ambiguous depiction of a double rape. In addition to the unexpurgat...